Valeant May Have Plunged Too Far Even in Worst Case, Mizuho Says
by
Shares worth at least $100 even in `catastrophic scenarios'

`The stock is no longer trading on fundamentals,' analyst says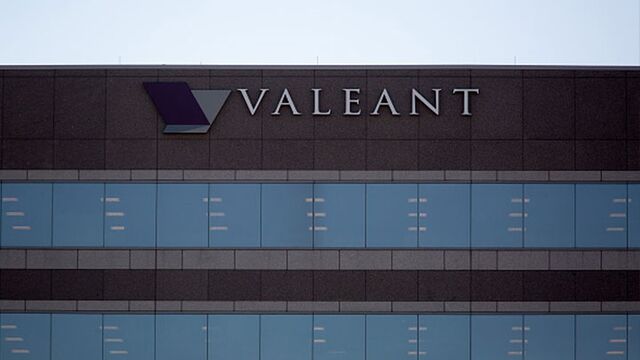 Valeant Pharmaceuticals International Inc. has fallen too far.
In a worst-case scenario, the drugmaker's shares are worth about 25 percent more than the $78.77 price where they closed Thursday, according to Irina Koffler, an analyst at Mizuho Securities. Even if the company's chief executive officer steps down and Valeant is put up for sale, the company is probably worth at least $100 a share, she said.
"We understand the panic associated with the turnover of large shareholders, potential government investigations, and the threat of management replacement," Koffler said in a research note Thursday. "The stock is no longer trading on fundamentals in our view."
Valeant fell 14 percent on Thursday to its the lowest price in more than two years. The drugmaker is facing scrutiny over how it sets prices for its drugs and over its relationship with the mail-order pharmacy Philidor Rx Services. It's also being questioned by lawmakers and has received demands for information from prosecutors.

Koffler's price target for Valeant is $155, using a calculation that's based on the value of the company's cash flow. Her liquidation value of about $100 a share is based on a similar model run under "catastrophic scenarios," she said. She has a "buy" rating on the stock.
Her price target is lower than some on Wall Street. Valeant shares can hit $199.58 in 12 months, according to the average of 19 analyst estimates compiled by Bloomberg.
"The stock keeps going down as if the company doesn't contain very viable business segments," Koffler said by phone. "People forget that there are very real businesses and assets and platforms within this company."
Valeant said Thursday that CEO Michael Pearson has the board's "full confidence."
"Mike remains focused on running the business and has been meeting with physicians, partners, and other stakeholders," Laurie Little, a spokeswoman for the company, said in an e-mail. "Despite recent market volatility that has impacted our stock price, Valeant's core business remains strong and is well positioned for growth."
An outside spokeswoman for Valeant with Sard Verbinnen & Co. didn't respond to a question about whether the company might put itself up for sale.
Before it's here, it's on the Bloomberg Terminal.
LEARN MORE