Fashion
Ugg Bets on a New Slim Boot to Win Winter
The slicker new design is built to be worn in the office and out on the town.
By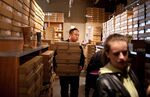 Ugg Australia, seller of those ubiquitous squat shearling boots, is slimming down for the winter.
A new, thinner version of its Ugg Classic, called the Ugg Slim, will appear in stores on Nov. 11, and parent company Deckers hopes the slicker design will be worn in the workplace and out on the town.
With a sheepskin shaft similar to that of regular Ugg boots, the new styles come with a curve at the top line and two different heel heights: flat and wedge. They'll cost from $160 to $260, depending on the style and color.
Deckers Brands President Dave Powers thinks of the new design as a more street-fashion tweak to the Ugg Classic. It fits somewhere between that chunkier Ugg, a casual staple for trudging through the cold on errands, and the higher-priced line called Luxe, Italian-made with fancy merino sheepskin for special occasions. Powers wants it to attract shoppers perhaps turned off by the chubby Ugg Classic many critics dismiss as ugly footwear for the unkempt.
"What we've learned … is that there is a significant amount of women out there who love the Ugg brand but want something other than the classic Ugg styling," said Powers.

Ugg is coming off a rocky holiday season in 2014, as Deckers blamed slow store traffic and mild weather for coming up short on its sales projections. The lead-up to winter is the most important time of the year for the brand, which depends on icy weather and a chilly climate to sell its sheepskin boots.
Last week, Powers admitted on a conference call with analysts that Ugg didn't devote enough attention to its traditional sheepskin-style boots as the company expanded into rugged-weather footwear and casual shoes. Five years ago, traditional Ugg boots made up about 65 percent of the brand's total business, said Powers. These days, that number is down to 25 percent.
Powers called Ugg Slim the "biggest product launch since the debut of the Ugg Classic boot." It may well be. While Ugg has previously used different materials or treatments for the Ugg Classic, this is the first time the brand has actually altered its shape. The release of Ugg Slim had originally been planned for late 2016, but executives decided to push it forward a year because of favorable consumer research. "We fast-tracked this style," Powers said.
Before it's here, it's on the Bloomberg Terminal.
LEARN MORE