U.S. Wins First Libor-Rig Case as Ex-Rabobank Traders Convicted
by and
Allen, Conti guilty on all counts in benchmark manipulation

Justice Department victory follows U.K. conviction of trader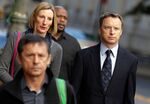 A New York jury convicted two ex-Rabobank Groep traders of rigging a key financial benchmark in the first such trial since the government pledged in September to hold bankers accountable for wrongdoing.

The verdict in Manhattan federal court against Anthony Allen and Anthony Conti is certain to embolden prosecutors investigating possible corruption in the currency, precious metals and U.S. Treasury markets. And after a London judge handed Tom Hayes, a former trader at UBS Group AG and Citigroup Inc., a 14-year prison sentence for rigging Libor, it indicates that conduct some bankers once defended as routine could now land them behind bars.

Prevailing in a case against individuals was the next challenge for the U.S. Justice Department, which won $2 billion in criminal settlements with firms including Rabobank for gaming Libor -- the London interbank offered rate -- a measure tied to more than $350 trillion in loans and securities.
Robertson Park, a former federal prosecutor who worked on the Libor investigation, predicted there will be more criminal cases tied to possible collusion over rates in other markets.
"This prosecution will have a bit of a splash effect," Park, now a partner at Murphy & McGonigle in Washington, said in a phone interview. Jurors were likely swayed by incriminating e-mails and chat messages introduced into evidence at the trial, he added.
That's "the best evidence you can have," Park said.
Hendrik Jan Eijpe, a spokesman for Utrecht-based Rabobank, declined by phone to comment on the verdicts.
Manipulating Benchmark
As the verdict was read, Allen's mother and Conti's wife wept. Allen slumped in his seat, resting his head against a clenched fist.
The men, who face as long as 10 years in prison when sentenced on March 10, were allowed to remain free on bail.
The U.S. has charged 13 people with manipulating the benchmark. Four pleaded guilty. British courts have moved faster, winning one conviction in August when Hayes was convicted and sentenced to 14 years in prison. A second trial, in which six brokers have been accused of helping Hayes rig Libor, is under way in London. The brokers have all pleaded not guilty.

In the U.S., Allen and Conti, who both worked in Rabobank's London office, were accused of joining in a four-year scheme to rig Libor. Allen, who'd faced one count of conspiracy and 18 counts of wire and bank fraud, was found guilty of all charges. Conti, who was charged with one count of conspiracy and seven counts of bank and wire fraud, was also convicted on all counts.
"This is round one," said Michael Schachter, Allen's lawyer, outside the courtroom. "We're disappointed with the verdict but Tony looks forward to pursuing all the legal avenues and options."
Conti's lawyer, Tor Ekeland, said he plans to appeal.
E-Mails
Libor is set daily, using data from a poll asking 16 firms to estimate how much it would cost to borrow from each other for different periods and in different currencies. The benchmark is used to determine interest rates on mortgages, commercial loans and derivatives.
With evidence that included e-mails, instant messages and recorded calls, prosecutors told jurors that both men illegally influenced the rate to favor derivatives traders whose positions were tied to Libor.
The guilty verdicts demonstrate the U.S. Justice Department's "ongoing efforts to hold individuals who use their corporate positions to commit fraud personally responsible for their actions," Assistant U.S. Attorney General Leslie Caldwell said in an e-mailed statement.
Final Word
But the verdict isn't necessarily the final word in the trial.
U.S. District Judge Jed Rakoff may still throw out the convictions if he finds prosecutors illegally relied on sworn statements Allen and Conti were required to give to U.K authorities in a parallel investigation, as opposed to some other evidence. Rakoff has postponed a decision on the issue until after the trial. He said he'll rule within 24 hours of holding a hearing.
During the three-week trial, former Rabobank traders Lee Stewart, Paul Robson and Takayuki Yagami testified for prosecutors in bids for leniency when they're sentenced. The three, who pleaded guilty, described asking Conti and Allen to provide submissions for the daily Libor poll that could shift the rate to benefit their trading positions.
Allen, 44, was the global head of liquidity and finance in London. He was accused of directing some of the bank's traders to advise Libor setters of any financial interest they had in the rate on a particular day, and seek out information that favored traders' positions. Conti, 46, who was the bank's primary U.S. dollar submitter at the desk, made fraudulent Libor submissions on behalf of the bank, prosecutors said.
Waved Extradition
Both men waived extradition and traveled to the U.S. to face the charges. Allen testified that it wasn't his job to make Rabobank's Libor submission, and that he did so only on a handful of occasions. He described how setting the Libor rate became "nearly impossible" beginning in 2007 and throughout the financial crisis because banks stopped lending to one another.
Confronted by e-mails the U.S. said showed he'd consented "O.K." to a derivatives trader's request to set Libor at a particular rate, Allen testified, "I was being non-committal. I didn't want to get into a discussion."
Conti didn't testify at the trial.
$1 Billion
Rabobank was fined more than $1 billion by U.S., U.K, and Dutch authorities in 2013 over allegations that 30 of its current and former employees were engaged in a scheme involving fraudulent submissions to the British Bankers' Association, which oversaw the Libor rate.
Of the seven former Rabobank traders charged in the U.S. with rigging Libor, three pleaded guilty while the U.S. is seeking the extradition of Tetsuya Motomura, who lives in Japan, and Paul Thompson. Thompson was arrested last month in Australia.
The case is U.S. v. Allen, 14-cr-00272, U.S. District Court, Southern District of New York (Manhattan).
Before it's here, it's on the Bloomberg Terminal.
LEARN MORE