Airlines Plan Egypt Evacuations as Jet Crash Blamed on Bomb
by and
EasyJet says 4,500 passengers stranded by flight ban

Britain says it's acting on `sensitive intelligence'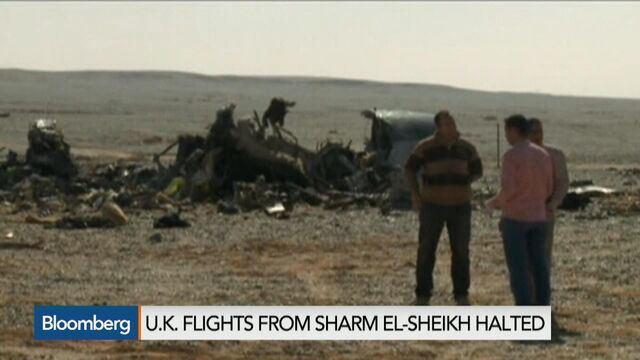 Travel companies led by EasyJet Plc and Thomas Cook Group Plc are preparing to evacuate about 10,000 tourists stranded in Egypt after the U.K. banned commercial flights to Sinai, citing concern that a bomb caused the crash of a Russian plane there last weekend.
EasyJet, which said Thursday it has 4,500 passengers in Egypt, will model the plan on its extraction of clients from Tunisia after a shooting in July left 30 Britons dead, with empty jets flying from the U.K. for rescue operations.

"EasyJet is in close contact with the U.K. government as to when we may be able to resume flights and repatriate people," spokeswoman Anna Knowles said. "We would only do so when the government deems it safe it travel."
The U.K.'s assessment that terrorism was the likely cause of the crash was based on "all the information available," some of it "sensitive," Foreign Secretary Philip Hammond said on Sky News, a position echoed by three U.S. officials speaking on condition of anonymity. President Vladimir Putin's spokesman, Dmitry Peskov, said there's "no basis" for that conclusion at this stage of the probe, even as Russian officials were ordered to bolster security measures in all countries where the country's airlines fly.
Islamic State
Preliminary evidence suggested involvement by Islamic State and investigators were examining the prospect that someone -- perhaps a baggage handler or airline official -- was bribed to get a bomb onto the Metrojet airliner, two of the U.S. officials said.
The jet was downed en route from Egypt's Sharm el-Sheikh airport to St. Petersburg, killing all 224 people on board. People purporting to represent Islamic State claimed the downing was retaliation for Russia's bombing of the extremist group in Syria.

About 330 EasyJet customers were stranded by the cancellation of two flights Wednesday after Britain's intervention, and a further 1,800 were due to fly out Thursday on six services. While an initial statement said flights might resume after U.K. officials review security arrangements in Sharm el-Sheikh, Hammond would say only that trips might start again before the Christmas rush.
Flights Halted
EasyJet scrapped four flights from London on Thursday, one from Manchester and one from Milan, where the Italian government has yet to comment on the cause of the crash.
Thomas Cook said it has 1,700 customers in the Red Sea resort who will be brought back in "due course," with free accommodation to be provided in the interim. The tour operator and rival TUI AG's Thomson arm scrapped all services through Nov. 12.
Monarch Airlines said it's working with the Foreign Office to bring people home, and British Airways said it would put back its sole Thursday flight by one day for the moment.
The Netherlands also said Thursday that it was advising people not to travel to Sinai. Representatives of the relevant government departments in countries including Germany and France didn't immediately respond to calls for comment.
Premature
Egypt's civil aviation ministry, whose investigators are leading the probe, said that theories about the cause of the tragedy are no more than speculation. Investigators haven't found any evidence or information proving the plane was downed by an on-board explosion, Civil Aviation Minister Hossam Kamal said in a statement Thursday.
While the A321's flight-data recorder has been successfully retrieved and is ready for examination, the cockpit-voice recorder was damaged and needs further work to extract sounds from the crucial last few minutes of the flight.
The disintegration of the aircraft close to its cruising altitude, with debris spread over an area measuring 8 miles by 4 miles, nevertheless suggests that it suffered a catastrophic break up that experts agree was most likely caused by some form of attack or a structural failure.
(An earlier version of this story was corrected to specify flights were to the Sinai region.)
Before it's here, it's on the Bloomberg Terminal.
LEARN MORE