VIP Chemo in Hong Kong Tower as TPG Builds Asia Cancer Business
by
Portfolio company created to invest in specialty facilities

TPG's TE aims to open a dozen cancer centers in region by 2017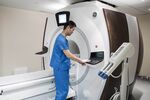 Some of the world's biggest banks and financial firms have offices in Hong Kong's Citibank Tower. This summer, the 50-floor skyscraper also became home to another kind of institution: a cancer-care center backed by private-equity heavyweight TPG Capital.

Equipped with biopsy facilities, body scanners, and quiet 'VIP' chemotherapy rooms, it is the first of a string of such facilities that TE Asia Healthcare Partners, a portfolio company funded by TPG, is planning in Asia. TPG manages more than $74 billion globally, and its investments have ranged from Airbnb and Uber in the U.S. to China International Capital Corp., the Asian country's first sino-foreign JV investment bank.
Now, TPG, which has its main offices in San Francisco and Fort Worth, Texas, is setting its sights on the business of cancer care in Asia. To address a gap in the market fueled by the region's soaring cancer rates -- the World Health Organization estimates the Asia-Pacific region has more than six million new cases a year -- TPG funded TE in 2014 to build a portfolio of specialty clinics and hospitals. The private-equity firm's interest reflects a growing consensus among global investors: there's money to be made off high-end health care in Asia.
"We're looking at diseases where there's high demand for treatment and can be addressed outside the general hospital setting, and oncology is certainly one of these," said TE's chief executive Eng Aik Meng. Down the line, "when doctors think about who they want to partner with in the private sector, I want us to be on the top of their mind." He declined to say how much money TPG was putting into the venture.
Unusual Business
The investment is an unusual one for the private-equity firm, which usually invests tens of millions in existing businesses rather than building them up from scratch.
Because there weren't many specialty centers to buy in the region, TE was created as a platform to build such facilities, Eng said. It took a while to find a space to locate its first project, the Hong Kong Integrated Oncology Centre, as the building had to be able to withstand the heavy weight of the scanning machines. The firm even broke open the windows of Citibank Tower one night to transport some of the MRI machines into the building, according to medical director Ronnie Poon.
Poon says he draws inspiration from U.S. facilities like New York-based Memorial Sloan Kettering Cancer Center. TE worked with Poon and others to plan the out-patient center in Hong Kong's business district, which opened its doors in July this year. The 26,000 square foot, two-storey facility dedicates one floor to imaging and scanning equipment that patients from other oncologists can also use. 
While retaining majority control for its centers, TE plans to partner with other top doctors in Asia to build private facilities. TE is targeting another two cancer facilities next year and another ten in the region -- with a focus on Southeast Asia -- by the end of 2017, Eng said. It also plans to open a cardiovascular hospital in Kuala Lumpur at the end of 2016.

The Hong Kong center promises patients a detailed analysis of their disease and a treatment plan within three days of walking through its doors. By comparison, waiting times for patients at private and public hospitals locally could range from three weeks to three months because they have fewer scanning machines and there may be days of waiting between different tests.
The risk of contracting infections would also be lower at the facility dedicated to cancer: A general hospital might, for instance, also house patients with other diseases like pneumonia. Hong Kong is also an easier spot for people from mainland China to travel to compared with the U.S., especially if gravely ill.
Cancer, Imaging
The facility has treated more than 150 patients, half of whom came from mainland China to seek care unavailable back home, Poon said. There remain hurdles to overcome. The center is still ironing out agreements with insurance companies, although it already accepts some premium insurance. It would also have to compete for the attention of well-off patients, who might still prefer big-name doctors in the U.S., and be willing to travel.
"Specialist hospitals will improve patients' options," said Milind Sabnis, director of consultancy Frost & Sullivan Asia Pacific health-care division. There's a growing need for specialty care in the region, driven by life-style diseases such as cardiovascular and oncology conditions; along with consumerism among patients, he said.
Eng became head of TE after two years as a senior adviser to TPG Capital. He's also board member of private health-care provider Chindex International -- which TPG took private last April with other investors for about $433 million.
"My own mother had cancer, and I went through that with her," Eng said. "Going to the hospital is tough, emotionally difficult and reminds you that you're a very sick person. We are hoping to make that process a little easier to deal with."
Before it's here, it's on the Bloomberg Terminal.
LEARN MORE