Toyota Plans Record $6.6 Billion in Buybacks as Profit Rises
by and
Carmaker keeps forecast for record 2.25 trillion yen profit

New Prius marks start of shift to shared parts, car platforms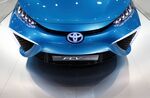 Toyota Motor Corp. will buy back as much as 798 billion yen ($6.6 billion) of its stock this fiscal year, spending a record amount to reward shareholders as profit heads toward an all-time high for the third year in a row.
The carmaker added 150 billion yen in shares to its fiscal-year buyback plans, which includes a repurchase that offsets new stock issued to long-term shareholders. Profit for the quarter through September rose 13 percent, in line with analyst estimates, and Toyota kept its full-year earnings forecast at a record 2.25 trillion yen.
Japan's dominant automaker overcame weak domestic demand to reclaim its position as the world's top-selling carmaker. As Volkswagen AG stumbles and faces a global emissions scandal, President Akio Toyoda is embarking on a revamp of Toyota's lineup. The new Prius hybrid will start a shift for half of Toyota's models to cheaper platforms that share more common parts by the end of the decade.
"That's the way any company should be, being flexible in buying back its own shares when the price is going down," Takashi Aoki, a fund manager at Mizuho Asset Management Co., said of Toyota, whose shares fell 15 percent in the three months through September. "I hope it's a message from Toyota, saying they will do this size of buybacks several times separately."
Toyota's American depositary receipts rose 1 percent to $124.80 at 9:49 a.m. in New York. They fell 1.5 percent this year through Wednesday.
Sales Forecast
Net income in the second quarter climbed to 611.7 billion yen. Citing weak demand in Asia, Africa, and the Middle East, Toyota trimmed its global sales forecast by 150,000 units to 10 million vehicles. Japan's minicar market also remains sluggish, Managing Officer Tetsuya Otake said Thursday in Tokyo.
Toyota has sold 7.49 million vehicles this year through September, topping Volkswagen's 7.43 million, as deliveries for both declined by 1.5 percent during the period. The German automaker is sinking deeper into crisis after saying 11 million vehicles would need to be recalled to fix emissions systems, disclosing Tuesday that more diesel and some gasoline engine cars pollute more than reported.
Redesigned Prius
As Volkswagen battles through its scandal, Toyota will be looking to pull off a smooth introduction of its first redesigned Prius in almost seven years. The world's top-selling hybrid will boast an improvement in U.S. fuel economy of about 10 percent, while an Eco version will deliver an even bigger boost. Toyota also will offer driver-assist technologies like automatic braking.
The 2016 Prius will be the first model to implement Toyota's companywide effort to cut development costs by 20 percent through sharing platforms, parts and powertrains across its lineup.
Exports from Japan of models including Prius and Land Cruiser are benefiting from a weaker yen than Toyota forecast at the beginning of the fiscal year. The yen traded at 121.81 per dollar on Thursday, compared with the company's assumption for 118 yen per dollar for the current fiscal year.
Still, Toyota's domestic operations could use a boost from the new models. Deliveries have slumped 7.8 percent to 1.65 million vehicles this year, putting the company's sales on pace for third annual drop in five years. Production fell 6 percent to 3 million units in the year's first nine months.
Before it's here, it's on the Bloomberg Terminal.
LEARN MORE