Tourist Exodus Planned as U.K. Sees Bomb in Egypt Jet Crash
by , , and
About 20,000 passengers stranded in Sinai by flight ban

Britain says it's acting on `sensitive intelligence'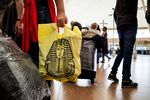 Thousands of tourists waited for evacuation from an Egyptian resort after the U.K. suggested a Russian jetliner's downing was carried out by terrorists, renewing concerns about airport security and the threat posed by Islamist extremists.
Companies led by EasyJet Plc and Thomas Cook Group Plc were making plans to bring home about 20,000 people stranded in Sharm el-Sheikh on the Red Sea. The British assessment was based on "all the information available," some of it "sensitive," Foreign Secretary Philip Hammond said on Sky News, a position shared by three U.S. officials who spoke on condition of anonymity.
While such an attack would raise fresh concerns about Egyptian President Abdel-Fattah El-Sisi's ability to thwart militants, it would also carry clear implications for his Russian counterpart, Vladimir Putin, who is conducting daily airstrikes against Islamist extremists in Syria.
A confirmed bombing would be a "game-changer" in terms of security issues and tourism for Egypt and, to a lesser extent, other countries in the region, according to Michael Horowitz, a senior analyst at the Levantine Group in Israel. "It is something that we haven't seen in many years."
A Russian official familiar with the investigation said the evidence so far remains inconclusive. Initial signs point to a terrorist act or technical failure, with readings from the black boxes showing the flight progressing normally before some sort of catastrophic event, he said. Russia sent its top investigator, Alexander Bastrykin, to help ensure full cooperation, the official said, noting Egypt seemed reluctant to blame terrorism, apparently for fear of the impact it would have on its tourism industry.

Putin's spokesman, Dmitry Peskov, said there's "no basis" to conclude terrorism caused the crash at this stage of the probe, even as Russian officials were ordered to bolster security measures in all countries where the country's airlines fly.
Islamic State
Preliminary evidence suggested involvement by Islamic State and investigators were examining the prospect that someone -- perhaps a baggage handler or airline official -- was bribed to get a bomb onto the Metrojet airliner, two of the U.S. officials said.
The jet crashed en route from Sharm el-Sheikh to St. Petersburg soon after taking off on Oct. 31, killing all 224 people on board. People purporting to represent Islamic State claimed the downing was retaliation for Russia's bombing of the extremist group in Syria.
The announcement by U.K. Foreign Secretary Hammond that terrorism is the likely cause of the crash irked both Russia and Egypt, at least publicly.
Russia was "shocked" the U.K. didn't share the intelligence it says it has first and is "surprised" at Hammond's comments since he's not an expert on the topic, Foreign Ministry spokeswoman Maria Zakharova told reporters in Moscow.
In Cairo, the Foreign Ministry criticized the U.K. for making the claim without first alerting Egypt, "in spite of high level contacts between the two sides just hours before." The country's civil aviation ministry, whose investigators are leading the probe, said theories about the cause are no more than speculation.
U.K. Prime Minister David Cameron told BBC News on Thursday that he will discuss security at Sharm-el-Sheikh airport with El-Sisi in London later in the day. He said he would also call Putin.
"We don't know for certain it was a terrorist bomb," Cameron said. "The reason we've acted is because of intelligence and information that we've had that it was more likely than not that it was a terrorist bomb"
Egyptian Crackdown
El-Sisi has repeatedly asserted that Egypt is safer as a result of his ongoing security operations against militant groups, mainly an Islamic State affiliate in northern Sinai. A shift to southern Sinai, where Sharm el-Sheikh is located, would hit Egypt at the heart of its key tourism industry and likely trigger an even bigger crackdown.
While an initial statement by the U.K. said flights might resume after officials review security arrangements in Sharm el-Sheikh, Hammond would say only that trips might start again before the Christmas rush.
EasyJet said it has about 4,500 customers stuck in Sinai, including 1,800 who were due to fly out Thursday on six services, five to the U.K. and one to Milan. Monarch Airlines said it has about 3,000 passengers there.
Thomas Cook said it has 1,700 customers in the Red Sea resort who will be brought back in "due course," with free accommodation to be provided in the interim. The tour operator and rival TUI AG's Thomson arm scrapped all services through Nov. 12.
"EasyJet is in close contact with the U.K. government as to when we may be able to resume flights and repatriate people," spokeswoman Anna Knowles said. "We would only do so when the government deems it safe to travel."
Before it's here, it's on the Bloomberg Terminal.
LEARN MORE