The Next CEO of Exxon Will Inherit a Diminished Giant
Whoever succeeds Rex Tillerson will inherit a company that's far poorer and without obvious growth opportunities.
By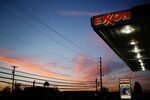 A decade ago, when ExxonMobil Chief Executive Officer Lee Raymond was nearing retirement and looking for a successor, Rex Tillerson seemed the perfect candidate. A 53-year-old native Texan with an engineering degree and a commanding physical presence, Tillerson was an Exxon lifer who'd spent 30 years in the "upstream" side of the business, dedicated to finding and producing oil and gas. His résumé included stints in Yemen and Thailand. Tillerson's chief rival for the job, Ed Galante, came from the "downstream" side—refining crude and natural gas into fuels and chemicals—important but not as much as the upstream division, which accounts for about 80 percent of Exxon's profits. In January 2006, Tillerson became chairman and CEO. By the end of the month, Galante had retired.
America's largest oil company is again looking for its next leader. Tillerson won't hit Exxon's mandatory retirement age of 65 until March 2017, but sometime in 2016 the board will choose his successor. The contest is strikingly similar to the last one. The leading candidates are Jack Williams, who runs the division responsible for more than 45,000 oil and gas wells around the globe, and Darren Woods, chief of the refining business, which makes 10 million gallons of gasoline, diesel, and other fuels every hour of every day.

The winner will take control of a corporation that remains impressive by almost every measure. It pumps enough crude to fill a supertanker every day, employs 75,000 people, and generates $400 billion in annual sales. Exxon's untapped reserves are so big, the company could continue current rates of production for almost 20 years even if it never finds another barrel of crude. Yet the Exxon Tillerson will pass on is significantly diminished from the one he inherited.
When Tillerson took over, Exxon had $28.7 billion in cash and was pumping almost 4.3 million barrels of crude daily. Today, Exxon's output is down to 4 million barrels a day, and its cash reserves have declined 85 percent, to $4.3 billion, eroded by soaring project costs and collapsing energy prices. "The world has changed dramatically since Rex Tillerson took over," says Brian Youngberg, an analyst at Edward Jones, a brokerage and advisory firm. "The fact that he's leaving his successor a company that produces less than it did 10 years ago says a lot."
When he became CEO, Tillerson had abundant exploration prospects from West Africa to Latin America after the $88 billion purchase of Mobil in 1999. With most of that inventory played out, he's had to hunt for sources of growth. His two biggest moves have been busts so far. In 2010, after doubting the potential of the U.S. shale patch during his early years as CEO, Tillerson negotiated the $35 billion acquisition of XTO Energy, a Texas shale gas driller. By 2012 natural gas prices had crashed and have remained historically cheap. "He made a bet on natural gas prices that turned out to be dead wrong," Youngberg says.
In 2011, Tillerson entered a joint venture to drill in the Russian Arctic alongside Kremlin-controlled Rosneft. The deal soured after Vladimir Putin's Ukrainian intervention triggered international sanctions against Russia, forcing Exxon to abandon the project and the $1 billion it had already spent. At less than $50 a barrel, oil is almost half the price it was during most of Tillerson's tenure as CEO. And his successor will have a hard time finding big new oil fields. "ExxonMobil has no growth and declining returns, and it's not clear what changes that, other than oil prices," says Wolfe Research analyst Paul Sankey. Still, compared with rival oil companies, Exxon has managed the downturn fairly well, avoiding mass layoffs and maintaining its AAA credit rating. The cash it spent went toward megaprojects that it says will deliver profits for decades.
In March, Tillerson said Exxon plans to double its crude output from U.S. shale in three years. That strategy could favor Williams for the top job, given his experience as Tillerson's hand-picked choice to lead XTO after the acquisition. Williams did well shielding XTO's independent wildcatting engineers from Exxon's rigid centralized decision-making. He allowed XTO to operate as a semiautonomous unit with its own headquarters and purchasing authority. This latitude could pay off, as Exxon leans heavily on XTO's expertise to increase its U.S. shale production. Meanwhile, Woods has spent the past three years shedding Exxon's weakest refining units, cutting costs, and boosting profits. Ultimately the decision about who succeeds Tillerson will come down to whether the board favors the architect of the company's advance into shale or the engineer who sold Exxon properties to improve profits. If it's anything like the last time, the loser may have to find a new place to work.

Before it's here, it's on the Bloomberg Terminal.
LEARN MORE