Taubman Art Trove Fetches $377 Million in Mixed Sotheby's Sale
by
Auction house financed $500 million guarantee to estate

Frank Stella painting fetches artist record $13.7 million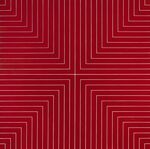 Sotheby's rolled out the red carpet for the auction of its former chairman's collection on Wednesday in New York. The results were less glamorous as the evening's $377 million tally barely passed the low target.
The stakes were high for Sotheby's in the first sale culled from the collection of A. Alfred Taubman, who died in April. The auction house won the consignment from rival Christie's by using its own money to provide the Taubman estate a record $500 million guarantee for more than 500 artworks.
An additional sale on Thursday of 123 less expensive lots totaled $42.7 million, bringing the tally from the estate to $420 million. There are two additional stand-alone sales of the collection.
"We expect to cover the Taubman guarantee in its entirety,"  Sotheby's Chief Executive Officer Tad Smith said in a statement Thursday, adding that the "first two auctions represented 90 percent of the value of the property in the collection."
The Taubman sales kicked off 10 days of semiannual bellwether auctions in New York. Sotheby's, Christie's and Phillips expect to sell more than $2.1 billion of Impressionist, modern, postwar and contemporary art. It's the first big test of the art trade since the stock market rout in August and September unnerved investors.
Modigliani's Woman
In Sotheby's 77-lot auction, 69 sold, led by Amedeo Modigliani's 1919 painting of a somber young woman in a black dress that fetched $42.8 million, exceeding its presale target of than $25 million. The event's tally was near the low end of the estimate of $374.8 million to $526.5 million. The results include buyers' commission charged by the auction house; the estimates don't.
Sotheby's shares fell 1.9 percent to $32.54 at 4 p.m. in New York trading Thursday and declined 25 percent so far this year.
"Today's stock price weakness is due to the auction results," Kristine Koerber, a senior analyst at Barrington Research, said in an e-mail Thursday. "We were expecting stronger results, as were probably many others."
Koerber, who has an outperform rating on Sotheby's, said market watchers will be looking at the auction house's results at its Impressionist and modern art sale Thursday evening as well as its contemporary art sale next week.
"Bidders appear to be more price-sensitive, even for high quality works of art," she said.
Big Promotion

To promote the sale, Sotheby's sent the highlights to Hong Kong and London, organized dinners for clients and consigners and designed special catalogs.
Two red carpets outside Sotheby's Upper East Side headquarters greeted visitors including filmmaker Woody Allen, fashion designer Valentino Garavani and Lightyear Capital Chairman Donald Marron. Champagne and blinis with black caviar were served to guests while staffers were decked out in tuxedos and cocktail dresses. Before the auction, the lights were dimmed and a video of the sale's highlights was played on two large screens to a loud soundtrack.
"They were in a tough spot," said Janis Gardner Cecil, director at Edward Tyler Nahem Fine Art gallery in Manhattan. "They had to have the Taubman sale stay here. In order to do it, they had to shoot for the moon."
High Estimates
Dealers said the estimates were too high for the quality of the material and as a result many works fell short of their low presale estimates.
"I don't think the world is convinced this was a legendary collection," said David Nash, co-owner of Mitchell-Innes & Nash gallery in New York. "It was a nice collection but it's not legendary."
Taubman, a self-made billionaire who made his fortune in shopping malls, bought Sotheby's in 1983 and took it public several years later. He built his art collection over more than five decades. In 2001 Taubman was found guilty of collaborating with Christie's to fix fees, violating antitrust laws and cheating customers of about $100 million. He spent 10 months in prison but maintained he broke no laws and took an unfair fall.
"The core question is: can they market this group of works based on the provenance?" said Andrew Terner, a private art dealer in New York. "Can they build the patina on the Taubman name?"
Some Casualties
The evening's eight unsold lots included paintings by Edgar Degas and Jasper Johns, each estimated at $15 million to $20 million. Milton Avery's painting fetched $1.7 million, below the low estimate of $2 million. Pierre Bonnard's portrait of a woman in a red striped shirt sold for $2.1 million, below the low estimate of $2.5 million.

One high point was a red 1961 painting by Frank Stella made with Benjamin Moore house paint. It fetched $13.7 million, setting an auction record for the 79-year-old American artist. About seven bidders chased after "Delaware Crossing," with the result exceeding its high estimate of $12 million and almost doubling its previous auction record of $6.7 million.
The unsold works are likely to find buyers in the days after the auction, said Simon Shaw, co-head of Sotheby's worldwide Impressionist and modern art department. "We are already getting offers. I suspect we sell at least one significant work tonight," he said, declining to specify.
Before it's here, it's on the Bloomberg Terminal.
LEARN MORE