Sweden Feels the Refugee Strain
The country is taking in more than 400,000 migrants over three years.
By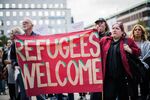 Sweden, which considers itself a humanitarian superpower, has long welcomed refugees, whether they be Jews escaping the Holocaust or victims of civil wars and natural disasters. Some 16 percent of its population is foreign-born, well above the U.S. figure of 13 percent. Since the 1990s the Scandinavian nation of 9.6 million has absorbed hundreds of thousands of migrants from the former Yugoslavia, the Middle East, and Africa.
Still, Swedes have never experienced anything like the current influx. Some 360,000 refugees—mainly from Afghanistan, Iraq, and Syria—are expected to enter the country in 2015 and 2016, on top of the 75,000 who sought asylum last year. It's as if North Carolina, which has about the same population as Sweden, sprouted a new city the size of Raleigh in three years.
In a sign that its hospitality may be wearing thin, the government announced on Oct. 23 that by next year it will end a policy of automatically granting permanent residency to most refugees. In the future, adults arriving without children will initially get only a temporary residence permit.
The Swedish Migration Agency says that meeting refugees' basic needs could cost the national government 60 billion kronor ($7 billion) in 2016. Local governments and private organizations will spend billions more. If the flow doesn't subside, "in the long term our system will collapse," said Foreign Affairs Minister Margot Wallström in an Oct. 30 interview with the daily Dagens Nyheter.

The scale of the challenge is clear in Malmö, a city of 307,000 near Sweden's southern tip that's become a main port of entry for refugees who've traveled north through Germany and Denmark. Trains arriving at Malmö's central station in recent weeks disgorge 300 to 400 refugees a day. Red Cross volunteers in bright red vests escort them to a cluster of trailers across the street, where they're offered food, clothing, and other supplies before boarding a bus to a Migration Agency center.
Waiting for the bus on a recent morning with his 6-year-old daughter, Abdul Rahim al Gor says he fled Syria after his hometown near Aleppo was repeatedly bombed. He describes a harrowing boat trip across the Mediterranean, followed by two weeks in a squalid Greek detention center. His eyes, shadowed by fatigue, brighten when he says he'll soon be joined by his wife and four other children. Once he establishes permanent residency, he'll have the right to bring his immediate relatives into the country. "Many of my friends have come here this year already, and they and their families feel secure," he says.
Al Gor and his kin will likely join thousands of asylum seekers being housed temporarily in and around Malmö in school gyms, children's summer camps, and soon a tent city under construction at a nearby military base. The city government is also caring for more than 1,700 unaccompanied refugees younger than 18. "We are struggling," Deputy Mayor Andreas Schönström says.
Finding enough beds and meals is only the beginning. Sweden has had difficulty integrating immigrants, especially those who are low-skilled, into the workforce. The unemployment rate among foreign-born Swedes is higher than 16 percent, vs. less than 6.5 percent for the native-born—one of Europe's widest disparities. On average, Sweden's refugees take seven years to become self-supporting. Many never do, says Joakim Ruist, an economist at the University of Gothenburg who studies the impact of immigration. Ruist estimates that support for refugees in recent years has consumed about 1 percent of gross domestic product—$5.8 billion annually. He reckons the latest wave could push the cost above 1.35 percent.
In Malmö, a vibrant startup scene is helping to create 10,000 jobs a year. Yet unemployment remains higher than 15 percent, because immigrants from Afghanistan, Somalia, and other countries lack schooling and language skills. Schönström says some commute to low-wage service jobs in Denmark, crossing a 10-mile bridge and tunnel that connects Malmö with Copenhagen.
Few such jobs are available in Sweden. The country has no legal minimum wage, but contracts negotiated between unions and employers guarantee that almost all workers earn more than $26,000 a year, along with generous benefits. In a move that could create more opportunities, the government on Oct. 23 proposed expanding tax deductions for people who employ domestic workers such as maids, baby sitters, and gardeners.
Some recent arrivals, especially those from Syria, are educated and may find jobs relatively quickly. Rama Yousef, a university graduate who came in 2013 with her family, spent five months in a government-paid intensive Swedish course, then enrolled in a program at Stockholm University that helps highly qualified immigrants find jobs. She now works in the Stockholm office of consulting group Capgemini. "The Swedish people have done a lot for me," she says.
Before it's here, it's on the Bloomberg Terminal.
LEARN MORE