SocGen Soars, Credit Agricole Dives on Consumer Bank Returns
by
To speed digital push, SocGen will cut 20% of French branches

Both banks post investment-banking revenue drops on volatility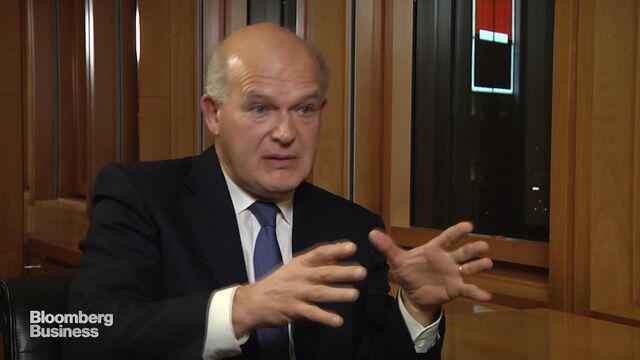 Societe Generale SA and Credit Agricole SA took off in opposite directions after third-quarter results played up the contrast in their consumer banks.
Shares in Societe Generale soared Thursday after profit jumped 17 percent at its retail unit as revenue rose and provisions for bad loans fell. That - and a promise to scale back the branch network by 20 percent and spend 1.5 billion euros ($1.6 billion) to develop digital banking - helped the lender overcome a slump in trading to lift net income 28 percent.
France's second-biggest bank after BNP Paribas SA is in talks with unions as it prepares retail-banking job cuts "in the range of thousands," Deputy Chief Executive Officer Severin Cabannes said in a Bloomberg TV interview.
"The quality of Societe Generale's retail-banking results is attractive," said Olivier de Berranger, a fund manager at Financiere de l'Echiquier in Paris, which manages more than 8 billion euros including Societe Generale shares. "Societe Generale is resting on its retail bank's good performance, when its investment bank disappoints."
Credit Agricole suffered from the comparison, with its stock dropping the most since August after results showed lower revenue at its 1,900-branch LCL network.
"Their bad luck is that the same day they publish results, you have Societe Generale that comes out with above-expectation results and things going in the right direction," said Karim Bertoni, who helps manage more than $6 billion at Bellevue Asset Management in Switzerland.
SocGen's shares rose 4 percent to 44.15 euros in Paris. Credit Agricole fell 8.3 percent to 10.80 euros. Natixis SA, meanwhile, jumped the most in two-and-a-half years as the company signaled it may buy back stock or boost payouts to shareholders.
Low interest rates are weighing on Credit Agricole's retail businesses. At the LCL network, revenue fell 1.8 percent in the third quarter. Revenue from Credit Agricole's regional bank network rose, as higher fee income outweighed lower interest income in the quarter.
"We are in a profound mutation of this business," Credit Agricole Chief Financial Officer Jerome Grivet told analysts on a call. "All in all, I don't expect full stabilization of the net banking income of the retail-banking activities before the end of 2016 probably or beginning of 2017."
Credit Agricole, which in recent years has revamped its investment bank and retreated from an international expansion, will present its 2020 plans in March, the bank said. While it's the third-biggest French lender by market value, it has the largest share of the country's retail market.
The company, a mix of local and regional cooperatives, is trying to reorganize its financial structure under a plan that analysts say may free up capital for shareholders.
At present, the bank owns shares in regional lenders than in turn own most of the bank, which complicates efforts to streamline, investors say.
"At SocGen and BNP, they are more mobile in taking decisions and making strategic choices than Credit Agricole," de Berranger said.
Trading Decline
Credit Agricole reported a 15 percent jump in third-quarter profit as higher earnings from its stake in private-equity firm Eurazeo SA offset a decline in trading revenue.
At Societe Generale, net income rose 28 percent to 1.13 billion euros from 882 million euros a year earlier. Revenue at the consumer division climbed 4.2 percent from a year earlier, outpacing BNP Paribas SA's French retail unit, where sales fell 3 percent in the quarter.
The company had solid results "thanks to a good commercial performance and a continued control over costs and risks," CEO Frederic Oudea said in the statement. "In phase with the digital revolution which is accelerating in the world of banking, we have decided to go faster and further in the transformation of our retail-banking model in France."
Revenue at Societe Generale's global markets unit dropped 10 percent to 1.19 billion euros amid volatility following China's devaluation of the yuan. Revenue from equity trading declined 5.5 percent on lower demand for structured products. Fixed-income, currencies and commodities revenue tumbled 23 percent. By contrast, BNP Paribas posted a 6.7 percent increase in revenue from trading in the quarter.
Net income at Credit Agricole's corporate and investment bank fell 2.7 percent to 256 million euros, as trading revenue dropped 12 percent to 374 million euros. Profit from savings activities, including asset management, insurance and private banking, rose 8.6 percent to 438 million euros in the quarter, Credit Agricole said.
Before it's here, it's on the Bloomberg Terminal.
LEARN MORE