SeaWorld Sinks in Wake of Killer Whale Outcry
By
Blames bad weather for lower Ebitda outlook for 2015

Third-quarter profit, revenue missed analysts' estimates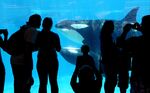 SeaWorld Entertainment Inc., the theme-park operator under fire from animal activists for its treatment of killer whales, dropped as much as 9.5 percent after reporting third-quarter results that fell short of analysts' estimates and cutting its 2015 earnings forecast.
The company blamed bad weather that caused three park closures over Halloween events, as well as increased costs from legal matters, for the outlook's reduction. SeaWorld now sees earnings before interest, taxes, depreciation and amortization of $360 million to $370 million this year, which would be a decline from $370.1 million in 2014.
The stock fell 7.8 percent to $17.99 at 9:42 a.m. in New York after declining to $17.67 for the biggest intraday decline in a year.
SeaWorld, which owns 11 U.S. theme parks, including its namesake attractions, has battled negative publicity following the 2013 release of the documentary "Blackfish," which argued killer whales shouldn't be kept in captivity. After two years of declining attendance, the company replaced its chief executive officer with Joel Manby, who formerly ran Dollywood. He plans to articulate a broader vision for the company during an investor presentation on Nov. 9.
"We are seeing signs of stabilization in our portfolio," Manby said on a conference call Thursday. "There are many, many good things happening here."
Profit was $1.14 a share in the third quarter, Orlando, Florida-based SeaWorld said Thursday in a statement, trailing the $1.18 average of 10 estimates compiled by Bloomberg. Revenue for the period, typically the company's biggest, increased 0.2 percent to $496.9 million, compared with the $508.6 million average of predictions.
Attendance during the busy summer quarter fell 0.4 percent to 8.37 million, due to decreased demand at two parks in California and Texas. The company said on the conference call that the California attendance decline was due to negative publicity regarding animal care, while Texas was down because of lower promotional activity.
The California Coastal Commission last month approved SeaWorld's request to expand the Orca tanks at its San Diego park, provided the company no longer breeds killer whales in the facility. SeaWorld said it plans to sue the commission to reverse its decision.