Putin's October Surprise May Be a Nightmare for Presidential Candidates
A Russian offensive could create heartburn for Republicans.
By and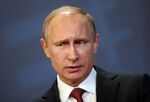 During the 2012 presidential campaign, President Obama ridiculed Republican Mitt Romney for asserting that Russia remains the biggest enemy of the U.S. "The 1980s are now calling to ask for their foreign policy back," Obama said during one debate. Four years later, Russian President Vladimir Putin has emerged as one of Obama's most frequent antagonists. Putin's decision to begin airstrikes in Syria on behalf of President Bashar al-Assad prompted the White House to announce in October that it would send special operations forces to help rebels who've waged a four-year civil war against the regime—reversing Obama's repeated insistence that he wouldn't put American boots on the ground.
A pivotal Russian offensive on Assad's behalf—especially one that results in a confrontation between U.S. and Russian forces—may put Hillary Clinton, Obama's former secretary of state, on the defensive, but it would cause greater heartburn for Republicans. The party remains split between those who want to avoid intervention and neoconservatives who favor it. "The challenge on the Republican side is: What the heck is Republican foreign policy?" says Jon Alterman, director of the Middle East Program at the Center for Strategic & International Studies, a Washington think tank.

Before it's here, it's on the Bloomberg Terminal.
LEARN MORE