Puerto Rico Electric Finalizes Pact With Bondholder Group
by
Prepa is seeking to restructure $8.3 billion of debt

Utility still needs to reach agreement with bond insurers
The Puerto Rico Electric Power Authority, the island's main electricity provider, has entered into a debt-exchange agreement with some of its bondholders and hedge funds that puts the utility a step closer to reducing its $8.3 billion debt load.
The accord wraps up a preliminary pact unveiled in September that calls for investors to take losses of as much as 15 percent in the transaction, according to a statement Thursday from the utility, known as Prepa. The pact stipulates that legislation authorizing the debt restructuring that was introduce this week must be passed in November and that the exchange must be executed by June 30, 2016, according to a statement from the bondholder group.
Hedge funds and municipal mutual funds holding about 35 percent of the agency's bonds, fuel-line lenders and the Government Development Bank, which lends to the island's agencies, signed on to the final pact. The agreement doesn't include bond-insurance companies MBIA Inc., Assured Guaranty Ltd. and Syncora Guarantee Inc., which guarantee about $2.5 billion of the utility debt against default.
The planned restructuring must also meet other conditions. Along with legislative approval, new bonds replacing existing Prepa debt must receive an investment-grade rating and the exchange cannot leave more than $700 million of the agency's current uninsured debt remaining. The utility's debt is rated at junk-bond levels.
Record Restructuring
"There's still a lot of disconnection and a lot of what ifs," said Matt Dalton, chief executive officer of Rye Brook, New York-based Belle Haven Investments, which manages $3.3 billion of municipal debt, including insured Prepa bonds. "To get the bonds to investment grade, they need the insurers to get re-involved. I'm not sure the insurers want to get re-involved."
A Prepa restructuring would be the largest-ever in the $3.7 trillion municipal-bond market, surpassing Detroit's historic bankruptcy filing in July 2013. Restructuring the utility's debt is the first step in the commonwealth's plan to reduce its $73 billion debt load by asking investors to take losses or delay debt-service payments.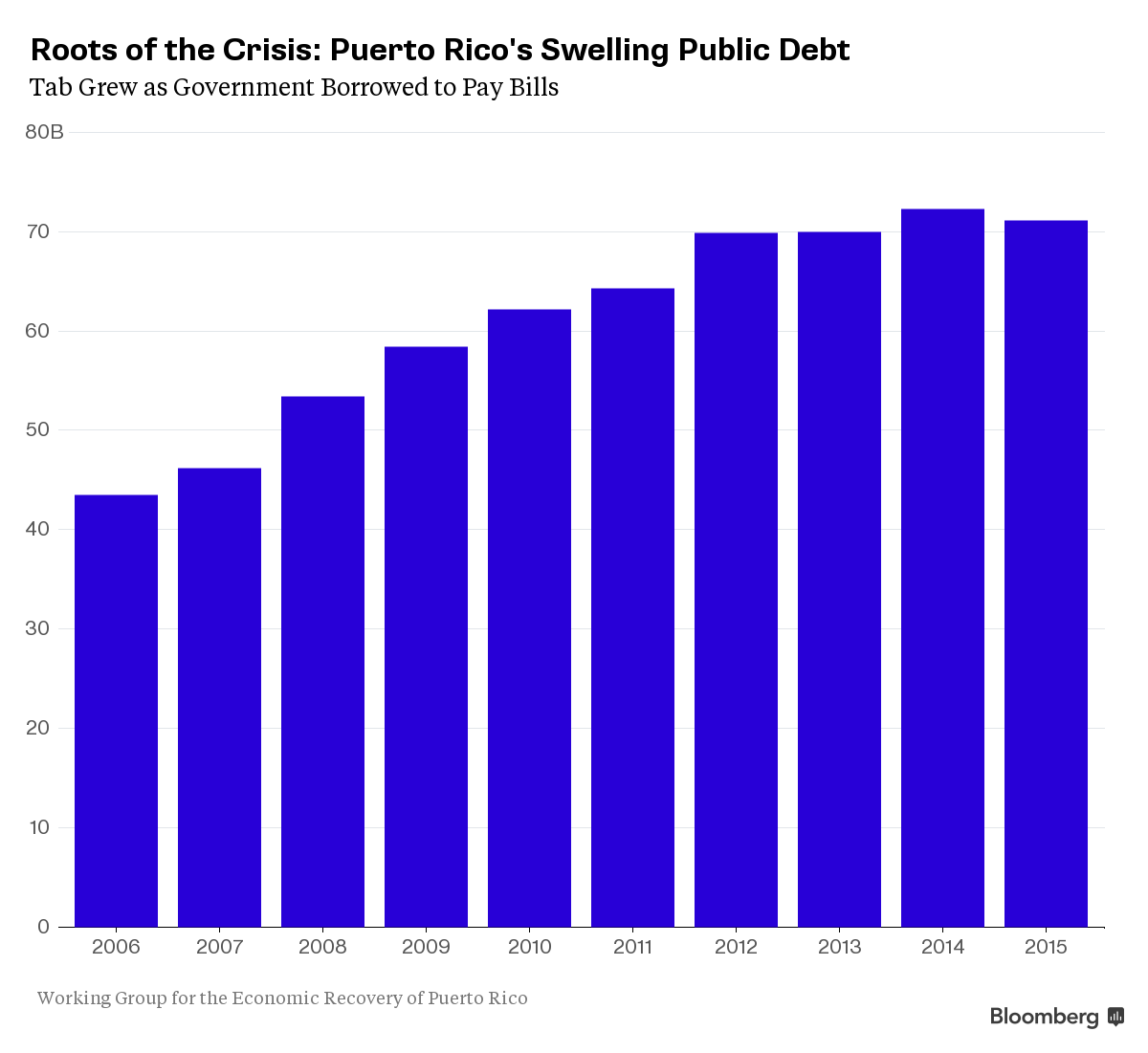 Prices of some Prepa bonds rose Thursday after the announcement. Debt maturing July 2017 changed hands at an average of 65.36 cents on the dollar up from 64.7 cents on Oct. 28, the last time the bonds traded, according to data compiled by Bloomberg. The average yield was 34.3 percent.
Prepa, bondholders, insurance companies and fuel lenders have been negotiating since August 2014 on how to restructure the utility's debt and modernize a system that relies on crude oil to produce most of its electricity. The parties at that time signed a forbearance agreement to keep discussions out of court after Prepa took cash from its capital budget to pay for fuel.
"We are working to build a strong financial foundation for Prepa and we are continuing constructive negotiations with our monoline insurers in order to achieve a consensual recovery plan," Lisa Donahue, the utility's chief restructuring officer, said in a statement. "The financial measures and agreements we are working to implement are strengthening Prepa and are in the best interests of all stakeholders."
A debt restructuring transaction requires legislative approval. Puerto Rico Governor Alejandro Garcia Padilla Wednesday submitted a bill that would give the utility the power to restructure its debt, implement rates to cover annual debt-service payments, create a new board and allow Prepa to enter into public-private partnerships to finance infrastructure upgrades.
Restructuring Example
Under the terms of the agreement in the debt exchange, investors will have the option to receive securitization bonds that pay interest at a rate of 4 percent to 4.75 percent or other securities that will accrue interest for the first five years. The bondholder group will negotiate with Prepa to backstop a cash tender for bonds held by non-forbearing investors.
The plan would give Prepa debt-service relief for five years of more than $700 million and permanent principal reduction of more than $600 million, according to the statement. That might not be enough relief for the utility, Dalton said.
"You're just buying enough time to let somebody else deal with it down the road," Dalton said. "And it will end up being even a bigger problem then."
Fuel-line lenders will have the option to convert credit agreements into six-year term loans with a 5.75 percent interest rate per annum or exchange for the new securitized bonds. The transaction would also pay out in full two swap obligations the utility has with UBS Group AG and JPMorgan Chase & Co., according to the restructuring support agreement.
"We hope that this agreement can be an example to others of the positive outcome that can be realized through committed negotiation -- and that Prepa and its remaining creditor constituencies can now reach similarly fair and reasonable solutions," Stephen Spencer, a managing director at Houlihan Lokey Inc., the financial adviser to the bondholder group, said in a statement.
The utility is the largest U.S. public power provider, with 1.47 million customers and $4.68 billion in electric revenue in 2013, according to the American Public Power Association. The agency is weighed down by overdue bills from other government agencies and departments and residents. Most municipalities don't pay the utility for electricity and in return the agency doesn't pay property taxes, an arrangement that benefits the local communities more than it does Prepa.
Before it's here, it's on the Bloomberg Terminal.
LEARN MORE