President Obama Will Spend 2016 Campaigning for His Legacy
More popular than Reagan!
By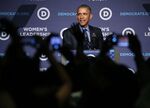 In 2014, President Obama was a ghost. He spent the last weeks before the midterms at the White House, out of sight as Democrats ran away from his record. In 2016 he'll have a triumphant return to the campaign trail. Surveys show he's regained his position as a powerful pitchman within his party: According to a Gallup poll taken in mid-October, his 83 percent job approval rating among Democrats is higher than Ronald Reagan's 79 percent among Republicans at the same point in his presidency. (His approval rating among all adults was 46 percent, compared with 51 percent for the Gipper.) "President Obama has both the unique ability and unique credibility to frame the stakes in the race that will be motivating to Democrats," says Geoffrey Garin, a Democratic pollster who was a senior strategist for Hillary Clinton's 2008 campaign and now works for the pro-Clinton super PAC Priorities USA. In addition to seeking to energize voters on behalf of his party's presidential nominee, he'll campaign for Senate and House candidates, according to a Democratic strategist familiar with the administration's planning.
It's a marked departure from the experience of Obama's predecessors. Bill Clinton was sidelined by Vice President Al Gore's campaign in 2000, in part because of his affair with White House intern Monica Lewinsky. George W. Bush was kept in the background in 2008 to avoid stirring up voters angry over the Iraq War and his handling of Hurricane Katrina and the economy.
Obama carries into the campaign season a record of executive actions that address the concerns of key Democratic constituencies. That includes orders protecting undocumented immigrants from deportation, regulating carbon emissions, opening diplomatic relations with Cuba, and establishing rules for federal contractors that advance gender pay equity and prohibit discrimination against gays. Securing a Democratic successor would help ensure those policies remain in place. "In the last year, he's only strengthened in his ability to rally the Democratic base and Democratic-leaning independents," says Guy Cecil, executive director of Priorities USA and former executive director of the Senate Democrats' national campaign arm.
Obama appears to be enjoying the prospect of another campaign. "About a year and a half ago people were saying I was a lame duck," he joked at an Oct. 27 fundraiser in Chicago. "We've been flapping our wings a lot."
Before it's here, it's on the Bloomberg Terminal.
LEARN MORE