business
Pound Tumbles After Carney Warns Its Strength Threatens Recovery
By
Officials cite sterling robustness as weighing on inflation

Yield on U.K. two-year gilt tumbles from one-year high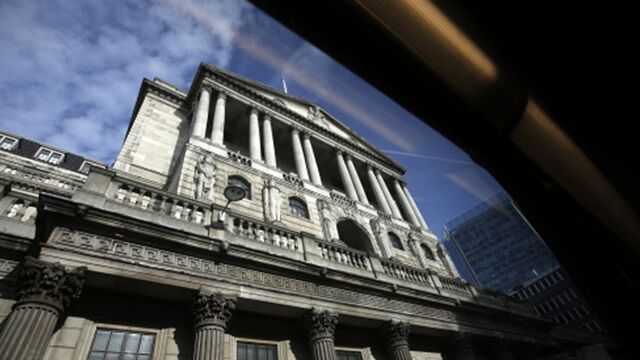 After a week of growing U.K. interest-rate expectations, Bank of England Governor Mark Carney poured cold water on the pound, sending it down by the most since August versus the dollar.
Sterling dropped at least 0.3 percent against all of its 16 major peers as the BOE ramped up warnings that its strength will continue to push down on inflation. Policy makers voted 8-1 to leave the official bank rate at a record-low 0.5 percent and trimmed their growth and inflation forecasts for this year and next. The pound stayed lower as Carney said in a Bloomberg TV interview after the policy decision that it's reasonably prudent to think the BOE will raise rates next year.
After Carney's comments on Bloomberg TV, forward contracts based on the sterling overnight index average, or Sonia, indicated that a full quarter-point boost to the official bank rate won't come until November 2016. While that's the same as on Wednesday, the contracts had signaled no increase until at least 2017 after the Bank published its Inflation Report.

"Concerns about pound appreciation seems to be front and center," said Valentin Marinov, head of Group-of-10 currency research at Credit Agricole SA's corporate and investment-banking unit in London. "The outcome should be seen as dovish relative to the market expectations."
---
Mark Carney Interview

Bank of England Governor on:
---
Sterling dropped 1 percent to $1.5231 at 5:25 p.m. London time, its biggest slide since Aug. 26. The pound weakened 1.1 percent to 71.38 pence per euro, its steepest decline since Sept. 23.
The pound's appreciation has become a thorn in policy makers' sides as they grapple with the risk that signaling higher borrowing costs would encourage further strength and make Britain's economy less competitive. Even as sterling declined Thursday it's still on track for its biggest annual gain versus the euro since the common currency's introduction in 1999.
U.K. consumer-price growth will remain below 1 percent -- or less than half the central bank's target -- until the second half of 2016 and there are downside risks to this outlook, the BOE said Thursday.
Following the Inflation Report, analysts at Deutsche Bank AG, the world's second-largest currency trader, said they were changing their view on the pound and are now betting that it will decline.
The BOE's focus on external factors over the domestic economic recovery has led Deutsche Bank strategist Oliver Harvey to end his bullish call on the pound, which has been in place since September 2014. A near-term interest-rate increase is off the table and the pound will fall to $1.27 and then $1.15 by the end of 2016 and 2017, respectively, Harvey wrote in a note to clients.
BOE QE
Gilts were also supported as the central bank said it won't start selling bonds acquired during its 375 billion-pound quantitative-easing program until its benchmark interest rate reaches 2 percent.
The two-year gilt yield fell three basis points, or 0.03 percentage point, to 0.68 percent, after earlier reaching 0.73 percent, the highest since October 2014. The 1 percent bond due in September 2017 rose 0.055, or 55 pence per 1,000-pound face amount, to 100.58. The yield on benchmark 10-year gilts dropped three basis points to 1.97 percent, having earlier reached 2.01 percent, the most since July 24.
"Would I rather have the majority of the British people thinking that rates are likely to go up in the next year, which is the case today? Yes I would, because that is reasonably prudent behavior, given the progress this economy is making," Carney said in the interview on Bloomberg after the Inflation Report on Thursday. "At some point, rates are going to move. It's not today, unfortunately."
— With assistance by Stefania Spezzati, and Eshe Nelson
Before it's here, it's on the Bloomberg Terminal.
LEARN MORE