Pilot of Last Japan Passenger Plane Seeks Chance to Fly New Jet
By and
Mitsubishi Aircraft has received 407 orders for new MRJ

Pilot Tetsu Sakai flew Japan's YS-11 plane for 14 years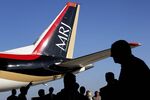 Tetsu Sakai flew the last Japan-made passenger plane for 14 years before it was retired from service more than a decade ago. He hopes to pilot a locally produced plane again after the Mitsubishi Regional Jet makes its maiden flight next week.

Sakai, a 55-year-old pilot at All Nippon Airways Co., was a co-pilot on the YS-11, the last made-in-Japan plane. While his friends went on to fly jets, Sakai became a captain on the turboprop, traveling between Japan's main island of Kyushu and smaller islets.
"There was a strong sense of really flying a plane," said Sakai, who now flies a Boeing Co. 737. "It was a big, heavy plane. Now planes have electric controls, but then they didn't."
The YS-11 was made by Nihon Aircraft Manufacturing Corp., a consortium of manufacturers that included Mitsubishi Heavy Industries Ltd., owner of Mitsubishi Aircraft; Kawasaki Heavy Industries Ltd.; and Fuji Heavy Industries Ltd. Only 182 of the planes were sold.
"It had big propellers and you could feel the vibrations," Sakai said. "It was excellent at landing though."
Project Lead
This time Mitsubishi Aircraft is leading the MRJ project. The company has won 407 orders for the jet, including 184 options and purchase rights.
Mitsubishi Aircraft offered a first glimpse of the MRJ in October 2014 at a ceremony featuring flashing lights and the throbbing beat of Japanese taiko drummers. The plane is set to make its first flight, lasting about an hour, from Nagoya airport sometime in the week of Nov. 9.
All Nippon Airways, a subsidiary of ANA Holdings Inc., is the first customer for the MRJ -- just as it was for the YS-11 -- and has ordered 25 of the jets, including 10 options. Mitsubishi Aircraft also has won orders from Japan Airlines Co. as well as SkyWest Inc. and Trans States Airlines Inc. in North America.
"The chances of me getting to fly the MRJ aren't zero, although I think it'll probably be the younger generation who fly it," Sakai said. "Of course as a pilot I'm keen to fly it."
Fuel Efficiency
The MRJ has electronic fly-by-wire controls, four large liquid-crystal displays in the cockpit, and engines that are at least 20 percent more fuel efficient than current models.
Mitsubishi Aircraft is building 78- and 92-seat versions of the plane, developed at a cost it estimates at 180 billion yen ($1.5 billion). The company has teamed up with Chicago-based Boeing to provide customer support.

Nihon Aircraft stopped the YS-11 production line in 1974 after little more than a decade. The company disbanded in 1983 with debts of about 36 billion yen, according to the Asahi Shimbun newspaper. ANA retired the YS-11 in 2003.
"I was sad to see the YS-11 go, but it couldn't be helped," Sakai said. "It's a sign of the times."
Competing Makers
Japan wants to break the virtual lock that Embraer SA and Bombardier Inc. have on the market for small passenger jets, as Boeing and Airbus Group SE control the market for larger passenger planes. With Montreal-based Bombardier now focusing on its bigger CSeries jets, which will be able to carry as many as 160 passengers, Mitsubishi Aircraft sees an opening it could fill.
In August, the Japanese company opened an engineering center in Seattle that will employ 150 engineers, including about 50 sent from Japan, to provide expertise on aircraft development and speed the MRJ's production. It also has opened sales centers in the U.S. and Europe.
"I look forward to Mitsubishi using the most of Japan's engineering technology and building a good plane," Sakai said. "I want to see them showcase it to the world."