One Justice May Decide the Next Major Abortion Case
The future for reproductive rights.
By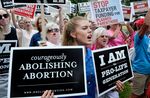 Beginning in July, anti-abortion activists released videos that appeared to show officials at Planned Parenthood Federation of America, the largest provider of abortions in the U.S., discussing the sale of fetal tissue. In response, Republicans in Congress threatened to shut down the government unless federal funding to the group was eliminated. Trying to squelch the controversy, Planned Parenthood announced in mid-October it would stop accepting reimbursement for the cost of providing fetal tissue to medical researchers who use it to develop vaccines and study degenerative diseases.
Abortion hasn't played a starring role in U.S. politics since 2007, when the Supreme Court upheld the federal ban on "partial birth" abortions, striking down claims that the law infringed on women's health-care rights. This term, the justices are likely to hear a challenge from Texas, where abortion providers are attacking a 2013 law that threatens to reduce the number of clinics offering the procedure to a dozen from about 40 in the state. (Michael Bloomberg, founder of Bloomberg LP, the parent of Bloomberg Businessweek, supports Planned Parenthood through his personal philanthropy.)
Legal observers predict that if, as expected, the high court agrees to hear the Texas case, it would lead to the most important abortion ruling since 1992, when the court upheld the core of Roe v. Wade, the 1973 case establishing a constitutional right to abortion. Conceivably, the Texas case could lend conservatives an opportunity to try to kill off Roe altogether. A decision would likely come in June, just as presidential general election campaigns get under way.
Two provisions of the Texas law are at issue. One requires abortion doctors to have admitting privileges at a nearby hospital. The other obliges abortion clinics to meet the same standards for equipment and staffing as nonspecialized ambulatory surgical centers. This past June, a three-judge panel of the U.S. Court of Appeals for the Fifth Circuit upheld the Texas statute, saying that while these requirements would force clinics to close, this didn't constitute "an undue burden" on women's right to obtain an abortion—the constitutional standard established by the Supreme Court in 1992.
Critically, the lower court declined to inquire whether the regulations promoted women's health or were just a means to limit the availability of abortion. Abortion restrictions ought to stand if "any conceivable rationale exists" for their enactment, the Fifth Circuit said. This deference to state lawmakers conflicted with rulings from at least two other federal appellate courts, which held in separate cases that judges ought to consider the impact of medical regulations that constrict access to abortion.
Texas defends the law in court as a bid to raise health standards and protect women. But former Governor Rick Perry made his real motive clear at an anti-abortion rally in Austin months before signing the bill. "My goal, and the goal of all of us who are gathered here today, is to make abortion at any stage a thing of the past," he said. "The ideal world is one without abortion. Until then, we will continue to pass laws to ensure that they are as rare as possible."
Chief Justice John Roberts and Justices Antonin Scalia, Clarence Thomas, and Samuel Alito are almost certain to vote to uphold the Texas restrictions. Liberal Justices Ruth Bader Ginsburg, Stephen Breyer, Sonia Sotomayor, and Elena Kagan will vote to strike down the state curbs as impinging on women's rights. The decision likely rests with Justice Anthony Kennedy, a Reagan appointee. In 1992 he formed a centrist troika with then-Justices Sandra Day O'Connor and David Souter to formulate the "undue burden" standard. How he'd apply that vague standard in the Texas case is anyone's guess. It's even possible that he'd consider joining the Roberts wing and use this case to get rid of Roe—a risk that pro-choice advocates knew they were taking when they brought the case to the high court.

Before it's here, it's on the Bloomberg Terminal.
LEARN MORE