Ollie North May Be Traders' Best Defense to Libor Conviction
by
Was testimony tainted by compelled statements in U.K.?

Prosecutors say statements were product of detached reflection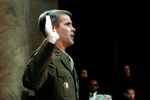 The U.S. government may want to pause before celebrating today's conviction of two former Rabobank traders for rigging interest rates. There could still be a wrinkle in this case that began across the pond.
Defense lawyers argued early on that the testimony of the star witness was tainted and should be thrown out. Pointing to the reversal of Oliver North's convictions in the Iran-Contra affair because of unreliable witness testimony, they have pressed Judge Jed Rakoff to toss out the entire case. Now that a New York jury has found the two men guilty, Rakoff will schedule a hearing on the testimony issue.
If the judge agrees -- though U.S. prosecutors dispute the reasoning -- the Rabobank verdict could be an empty victory.
U.K. Cooperator
The defense's argument centers on the testimony of Paul Robson, a U.K. citizen who decided to plead guilty to just one count related to Libor manipulation and to cooperate with U.S. prosecutors rather than take his chances in court.
Lawyers for the two Rabobank traders on trial said that several months before Robson agreed to testify under a cooperation agreement, he read through 300 pages of statements that several of his Rabobank colleagues gave to British authorities. The statements, which he and his colleagues were compelled to give under British law, could have unfairly influenced Robson's testimony against the two men, according to their court filings.
There is no way to determine "whether the memories of Mr. Robson would be substantially different had he not reviewed defendants' compelled testimony," attorneys for the defense wrote. The inclusion of "compelled" testimony violates the Constitution, they said, because individuals can't be compelled to testify against themselves in the U.S.
Cross-border Challenges
The wrinkle exposes yet another reason cases are hard to mount against individuals whose activities cross borders and legal systems. First there's extradition, which can hang things up so long that witnesses disappear or memories fade, and then comes seemingly small, but significant differences in evidence gathering and testimony.
The prosecution has argued that Robson "was not motivated in any way" to cooperate after reviewing his colleagues compelled testimony. Robson's decision to plead guilty and testify was a product of his own free will and "detached reflection."
Defense attorneys for the Rabobank traders cited a decades-old case in their bid to suppress Robson's testimony. Oliver North, a former aide to President Ronald Reagan, had felony convictions overturned because of tainted witness testimony.
North's conviction was for his role in the secret sales of weapons to Iran to fund anti-communist rebels in Nicaragua during the late 1980s, in what was known as the Iran-Contra Affair. That was later overturned by an appeals judge who ruled it was impossible to prove if North's televised Congressional testimony (when he spoke under immunity from prosecution) unfairly influenced witnesses who later took the witness stand for the prosecution.
Compelled Statements
In the case of the Libor traders, Judge Rakoff may order a new trial or dismiss the indictment because the prosecution didn't establish that Robson's testimony wasn't tainted by his colleagues' compelled statements.
The government argued in a court filing that no one's Constitutional rights had been violated during the investigation and that it had made no use of the foreign depositions either in the trial or in the grand jury phase. It contends that chats and e-mails were the primary evidence in its case and Robson was not "motivated nor influenced by the contents" of his colleagues statements.
The trial was the culmination of a seven-year cross-border investigation between the U.S. and U.K. Anthony Allen and Anthony Conti, who worked in Rabobank's London office, were convicted on all counts.
$350 Trillion
They are among 13 bankers charged in the U.S. with manipulation of interest rates that are tied to $350 trillion of loans and securities. The scheme was carried out for more than four years, crossed borders and harmed the economies of the U.S., U.K. and other countries, American officials have said.
Earlier this year British authorities convicted Tom Hayes, the former trader at UBS and Citigroup Inc., who was depicted as the ringleader of a Libor-manipulation scheme involving 25 traders and brokers from at least 10 firms.
Hayes, who was also charged in the U.S., was sentenced to 14 years in prison. Another trial, involving six brokers who allegedly conspired with Hayes, began in London last month.
The U.S. convictions mark a victory for prosecutors who have struggled to hold individuals accountable for crimes committed on Wall Street. Banks have paid close to $9 billion in criminal settlements for rigging interest rates and $5.8 billion in the U.S. for colluding to rig foreign exchange markets.
Before it's here, it's on the Bloomberg Terminal.
LEARN MORE