Microsoft Just Wants to Be Loved
The company tries to engender fuzzier feelings. It's working.
By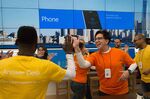 This year, Apple made Microsoft look prescient. During its annual product launch-apalooza in September, Apple introduced a larger iPad aimed at business users, one that looked so much like Microsoft's Surface Pro that the online peanut gallery deemed the company a copycat. A few years ago, even if Microsoft had been first on something like that, Apple could well have gotten the credit for the idea. "It's gotten so much better," says Microsoft Chief Marketing Officer Chris Capossela. "The company has so much more momentum."
Capossela is quick to add that Microsoft needs to do more to excite people. "Clearly relevance for consumers" remains a challenge, he says, and next year, Satya Nadella's third as chief executive officer, will show whether the company can get people to love its products, instead of relying on inertia.
Already Microsoft is far ahead of where it was when Nadella took over in early 2014, the year after the company wrote down excess Surface tablets and Windows 8 flopped. Since 2013, Microsoft has risen from seventh place to third, behind Apple and Google, in BrandZ, the annual consumer survey that researcher Millward Brown conducts for WPP. Marketing consultant CoreBrand says Microsoft rose from twentieth to seventh in its similar survey during that time. The BrandZ report attributes Microsoft's gains to product modernization under Nadella.
In October, Microsoft drew positive reviews for its first-ever laptop, the Surface Book, with features including a specially designed hinge that lets users adjust the screen angle more radically than most laptops. The Surface Book is sleek and silver, a lot like a MacBook, with specs clearly aimed at Apple customers. (So is the price: It starts at $1,500.) "It's one of the first high-end Windows devices that may be able to compete with Apple," says Michael Silver, an analyst at researcher Gartner. "It's distinctive. It presents a certain aura that heretofore Apple really owned."

Some of Microsoft's other forays into hardware have been less encouraging. Earlier this year, Nadella wrote down almost the entire $9.5 billion the company paid for Nokia's cell phone division in 2014 and said he would focus on introducing a handful of phones per year, betting more on mobile software. Microsoft says its Office apps for iOS and Android have been downloaded more than 200 million times since the first one was introduced in March 2014, and the company has acquired makers of e-mail, calendar, and task list apps for iOS and Android to expand its offerings.
Although investors rewarded Microsoft for better-than-expected quarterly earnings in September, its revenue fell $1.5 billion from the same period a year earlier. Some of that is a one-time hit from the phone division's downsizing, but some of Nadella's strategies to widen Microsoft's consumer audience—free mobile versions of Office apps, free upgrades to Windows 10—also lower or constrain revenue, says Colin Gillis, an analyst at BGC Financial. "He'll have to show that he can also bring in sales," Gillis says.
Microsoft CMO Capossela says that's the next step. Next year will be critical for Windows 10 adoption, he says, and for building market share for cloud products such as Azure. For now, at least, Daniel Morgan, senior portfolio manager at Synovus Securities, says: "This is the most positive I've been on Microsoft in about 15 years."

Before it's here, it's on the Bloomberg Terminal.
LEARN MORE