Lufthansa Cabin Crews Start Strike With Walkout in Frankfurt
by
Frankfurt, Dusseldorf bases affected by initial work stoppage

Airline to run almost all long-haul services on Saturday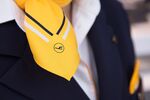 Deutsche Lufthansa AG cabin crews began a week of strikes with a nine-hour walkout in Frankfurt and Dusseldorf after talks with the German airline broke down over retirement terms.
Flight attendants are stopping work at the two airports from 2 p.m. through 11 p.m. Friday, and for 17 hours on Saturday starting at 6 a.m., with the halt in Frankfurt that day limited to services on single-aisle Airbus A320-series and Boeing 737 planes, the UFO union said in a statement. Lufthansa said its only long-haul cancellation on Saturday will be a Dusseldorf-Newark, New Jersey, flight, while almost all European flights from Frankfurt will be dropped except "a few" to Munich and three serving London Heathrow.
Europe's second-largest airline, which is based in Cologne and has its biggest airport hub in Frankfurt, is seeking to curb spending to sustain earnings while competing with discount airlines from across the region, such as Ryanair Holdings Plc, and full-service rivals from the Middle East. UFO rejected Lufthansa's latest offer on Thursday in a long-running dispute over the savings efforts.
The union reiterated that the protest will continue through Nov. 13. No strike is planned for Sunday, and Munich will be unaffected by walkouts through the weekend because of local travelers returning at the end of school vacations in southern Germany.
Lufthansa scrapped 290 flights on Friday, or just under 10 percent of its program for the day. The carrier has reserved 2,500 hotel rooms for any stranded passengers, as 37,500 customers are affected by the disruptions. Long-haul destinations affected by cancellations include Beijing, Bangkok, Rio de Janeiro and Johannesburg, according to the airline's website.
The strike involves only the Lufthansa brand and not the CityLine, Germanwings, Eurowings, Air Dolomiti, Austrian Airlines, Swiss or Brussels Airlines divisions. 
Pilots' Conflicts
The flight attendants' dispute mirrors one between Lufthansa and its pilots, whose strikes ended in September after a German court ruled the actions were an illegal protest against company plans to expand a low-cost unit.
The conflict may also reflect a larger power struggle among German labor groups. UFO says its total membership exceeds 13,000 flight attendants, including employees at charter-flight competitor Condor, though it doesn't give a breakdown per company.
Lufthansa said that UFO's demands included a call for the airline to also sign any pension-benefits deal with the newly formed IGL, which says it's an umbrella union for employees in various fields of aviation, including administration and aircraft maintenance. Under a law that took effect mid-year limiting collective-bargaining power at a German company to the union with the most members there, recognition of the IGL could eventually deprive other unions of the right to hold pay talks with Lufthansa. Those could include Ver.di, which represents about 33,000 ground staff at the carrier, or Vereinigung Cockpit, with just over 9,000 pilots.
While UFO had suggested seeking the IGL's inclusion, it was never a requirement for a deal, Nicoley Baublies, the head of the flight attendants union, said by phone. It has also invited Vereinigung Cockpit to join the IGL, he said.
Lufthansa rose 3.3 percent to 13.95 euros at the close in Frankfurt. That pushed the stock to a 0.9 percent gain for this year, valuing the company at 6.48 billion euros ($7 billion).
The strike could become the longest ever by cabin crews at Lufthansa. The flight attendants' one previous large-scale walkout involved a three-day protest in 2012, which cost the carrier 33 million euros and led to 1,500 flights being scrapped. That compares with the 352 million euros in costs and 9,700 cancellations that a series of pilot strikes caused since last year.
UFO has agreed to a switch of Lufthansa's pension system to a defined-contribution program from defined benefits. The airline said this week that the union is seeking to maintain payments at previous levels, while Lufthansa wants employees to work additional years to reach that figure.
Before it's here, it's on the Bloomberg Terminal.
LEARN MORE