Big Money
Look Who Wants to Be a Donald Trump Delegate
Shaun McCutcheon, the plaintiff behind the Supreme Court case that allowed big campaign donors to give even bigger, wants to represent the billionaire contender at the Republican National Convention.
By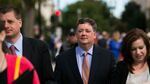 A conservative free speech hero who beat the Federal Election Commission in a landmark 2014 Supreme Court case is jockeying to become a delegate for Donald Trump.
Shaun McCutcheon is on track to become an official delegate for the billionaire Republican presidential candidate Friday. That's the deadline for Trump, along with his presidential rivals, to get on the ballot for Alabama's March 1 primary. As long as Trump files the necessary fee and paperwork to get on the ballot and no one enters the race against McCutcheon, he'll be slated as a Trump delegate to the Republican National Convention next summer in Cleveland.
"Even before Trump was big—I knew he was going to be big," McCutcheon boasted in an interview with Bloomberg. "He's an outsider. He's got resources. And he's tapping into what the American people want: a fighter."
McCutcheon made national headlines as the plaintiff in a campaign finance case that challenged the FEC's right to put a limit on individuals' combined donations to candidates and political groups. Ruling in McCutcheon's favor, the court struck down the $123,000 ceiling the FEC had put on the amount an individual could give to candidates for federal office in the 2014 election cycle. The court ruled that the limit represented an unconstitutional infringement of donors' free speech rights.
Democrats have assailed the ruling, arguing it enabled big money to further influence the political process. Many Republicans praised the the decision as a First Amendment victory and honored McCutcheon for his efforts.
The Republican Leadership Conference awarded him the 2014 Guardian of Free Speech award in New Orleans. Trump was a keynote speaker at the event and McCutcheon met the billionaire businessman backstage.
While Trump has lately assailed the influence of money in politics, and disavowed the use of super-PACs, complaining about his rivals' reliance on them, McCutcheon thinks he's picked a simpatico candidate.  "Mr. Trump is a big donor himself—well, before he started running for president," McCutcheon said. "But he understands how the ruling allows for more free speech and more participation in campaigns."
Because super-PACs must legally be independent of the candidates they support, it's impossible for Trump to keep them from spending money to help him. And McCutcheon has his own super-PAC, Conservative Action Fund, that so far has spent $40,000 backing Trump, including some expenditures that appear to have been made after Trump asked super-PACs supporting him to stand down.