Kraft Heinz's Sales, Profit Drop in First Quarter After Deal
by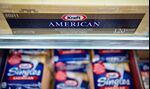 Kraft Heinz Co. reported a drop in sales and profit for its first quarter since the food giant was created in a merger orchestrated by billionaire Warren Buffett and 3G Capital.
Third-quarter revenue fell 9 percent to $6.36 billion when measured to include comparable results from a year earlier, the company said Thursday in a statement. Excluding some items, profit was 44 cents a share in the period, down 4.3 percent.
Kraft Heinz, the third-largest food and beverage maker in North America, is struggling with shrinking demand for packaged foods, underscoring the need to reduce costs. The company has said it will cut $1.5 billion in annual expenses by the end of 2017.
The company is "driving greater accountability, discipline and efficiency," Chief Executive Officer Bernardo Hees said in the statement.
The shares fell 4.5 percent to $72.01 in New York. The decline brought Kraft's year-to-date drop to 1.3 percent.
This is the first time that Kraft Heinz has reported earnings for the combined company. In August, it released second-quarter sales numbers for Heinz and Kraft Foods Group that also showed declining revenue at each business.
Heinz completed its merger with Kraft in July. Buffett and 3G Capital, the private-equity firm founded by Brazilian billionaire Jorge Lemann, previously teamed up to take Heinz private in 2013. 3G slashed costs at the ketchup maker and now it's taking that same belt-tightening approach to Kraft, which has announced factory closings and more than 5,000 job cuts.
Dividend Boost
Kraft Heinz also raised its quarterly dividend 4.5 percent to 57.5 cents a share.
The company said Wednesday that it would close seven factories in North America and cut 2,600 jobs over the next 12 to 24 months. That's in addition to the 2,500 jobs the company said it would cut in August, including 700 in Northfield, Illinois, the longtime home of Kraft Foods. The company has announced plans to relocate the headquarters of Kraft to downtown Chicago.
Hees cut more than 7,000 jobs in the 20 months after taking over at Heinz. Shortly after the latest merger was announced, Kraft Heinz rolled out policies aimed at curbing expenses such as travel, electricity and office supplies. The company also removed refrigerators at headquarters that had been stocked with Kraft products like Jell-O and cheese sticks.
Berkshire Hathaway, the sprawling conglomerate Buffett has overseen for five decades, is poised to report record quarterly profit on Friday, lifted by a $7 billion pretax gain on a stake in Kraft Heinz. Buffett helped finance the merger that created the food company, and Berkshire became its largest shareholder in July.
Before it's here, it's on the Bloomberg Terminal.
LEARN MORE