Korea Fears It Will Age Into Japan
The country's low birthrate will lead to a shrinking workforce.
By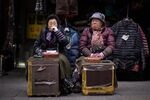 Sometime in 2016, the size of South Korea's working-age population will peak at 37 million; then it will likely drop 1.3 percent by decade's end. "We have fundamental structural problems," says Kwon Tae Shin, president and chief executive officer of the Korea Economic Research Institute.
"The situation will be similar to Japan," says Lee Young Wook, a fellow at Korea Development Institute, a think tank in Seoul. Japan's population reached a high in 2008 and has fallen ever since. One in four Japanese is 65 or older, and the working-age population peaked in 1995. In South Korea, those 65 and older make up 13 percent of the population, up from 10 percent in 2007, according to Statistics Korea. By some measures, the problem is worse: At just 1.2 children per woman, Korea's birthrate is lower than Japan's 1.4. (To keep population steady, the rate needs to be just over 2.) A 2015 report by London-based nonprofit HelpAge International measured quality of life for the elderly in 96 countries. Japan made the top 10, but South Korea came in at 60, third-to-last among Organisation for Economic Co-operation and Development nations, ahead of Turkey and Greece.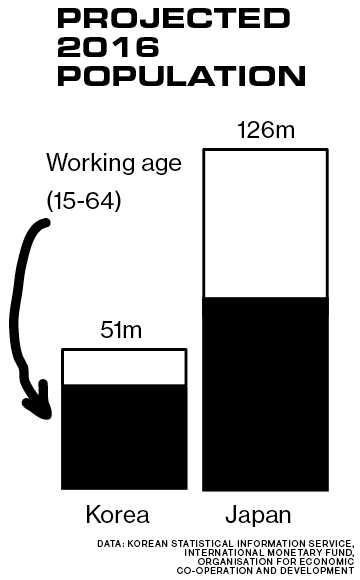 The aging population will hinder the Korean government's efforts to revive the listless economy, which has been plagued by decelerating exports and weak demand at home. "It really does lower the potential growth rate," says Joseph Incalcaterra, an economist in Hong Kong with HSBC. A parliamentary report last year said gross domestic product would grow an average of 3.6 percent from 2014 to 2018. But the demographic changes will make that difficult to achieve. With domestic demand accounting for about half of GDP, South Koreans will have to come to terms with the effect a smaller labor pool will have on consumption, says Incalcaterra.
A shrinking workforce should create openings for younger workers. For now they're at a disadvantage. While the jobless rate overall is below 4 percent, average unemployment for workers age 15 to 29 is 9.6 percent, up from 7.7 percent in 2012, according to Emily Dabbs, an economist at Moody's Analytics. Many jobs available to young people are temporary, without the full benefits that older Koreans enjoy. About one-quarter of workers are in these temporary jobs. Koreans in the "aging part of the workforce" are the ones with permanent positions, says Adrian Mowat, chief Asian and emerging-markets equity strategist at J.P. Morgan Securities. "The people in their late 20s and early 30s are the ones who are struggling." That exacerbates the population problem. "It's difficult to have a [higher] birthrate if you're not forming households," Mowat says.
To avoid falling into the same trap as Japan, where an aging population is weakening consumer spending, South Korea's government is trying to reform labor laws that discourage big companies from putting younger workers on the payroll. The aim is to make it easier to hire and fire and to base compensation on merit as opposed to seniority. President Park Geun Hye, who's never married, is also taking steps to encourage women to have children. Her government has announced policies to make child care, education, and housing more affordable. Korea Development Institute's Lee says those are good first steps, but employers must change, too, by shortening their family-unfriendly workdays. "Culture and policy have to work together," she says. In the meantime, Korea's workforce will get smaller and older.

Before it's here, it's on the Bloomberg Terminal.
LEARN MORE