Iron Ore Chief Says Rio Can't Turn Off Tap to Boost Prices
by and
Harding says Rio is `vigorously' competing for market share

Steelmaking ingredient on course for third annual decline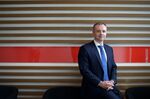 Rio Tinto Group, the world's second-largest iron ore producer, said it will keep defending market share and insisted it's wrong to believe cuts to output would lift waning prices, which are headed for a third annual decline.
"If you think for one second that you can just take some volume out and no one else will actually move to fill that volume, then you are fooling yourself," Andrew Harding, chief executive officer for iron ore and Australia, said Thursday in Perth. The producer is "vigorously competing against global suppliers for market share," he said.
As the steel-making ingredient's benchmark has slumped back below $50 a metric ton, critics have renewed attacks on the strategy of the biggest suppliers. Rio and Australian rival BHP Billiton Ltd. are raising volumes in an effort to cut costs per ton, in the expectation that higher-cost competitors will be forced out of the export market.
However, cost cutting by the bigger miners isn't keeping pace with price declines, while costlier rivals aren't shuttering operations as quickly as anticipated, the CEO of Cliffs Natural Resources Inc., the U.S.'s top producer, said this week.
Market Share
Iron ore has lost 31 percent this year as Brazil's Vale SA, BHP and Rio expand their low-cost production just as signs indicate that demand in China, the largest consumer, is contracting. Prices will probably decline gradually for years to come, Alan Chirgwin, BHP's vice president of marketing for iron ore, forecast this week.
"There has been a view that Australia can simply turn the iron ore tap on and off to regulate the global, market-based price,"' Harding said in Perth. "It just doesn't work like that." Competitors would seize on any chance to grab market share, he said.
Rio's share of the iron ore export market is about 17 percent, Harding told investors in Sydney in September. The size of the seaborne market was about 1.7 billion tons in 2014, according to Rio filings.
Future Demand
While China will remain "critically important" for exports, Rio forecasts "emerging markets other than China will play a much more important role in the demand for iron ore," Harding said in his speech. The producer is sticking by an estimate that total global iron ore demand will reach 3 billion tons a year by 2030, he said.
Investors to lawmakers have accused the biggest Australian producers of a flawed strategy in pursuing expansions that are eroding royalty payments and profits as prices plunge. Andrew Forrest, the chairman of Australia's no. 3 producer Fortescue Metals Group Ltd., in March urged major suppliers to limit output, arguing such a move would help raise prices as high as $90 a ton. His bigger competitors have dismissed his call.
Ore with 62 percent content delivered to Qingdao rose 0.1 percent to $49.18 a dry ton on Wednesday after it fell on Tuesday to the lowest since July 9, data compiled by Metal Bulletin Ltd. show. The raw material bottomed at $44.59 on July 8, a record in daily price data dating back to 2009. Futures in Dalian dropped to a record close on Thursday.
Before it's here, it's on the Bloomberg Terminal.
LEARN MORE