Indonesia's Economy Expanded Less Than Estimated Last Quarter
by and
Third-quarter gross domestic product rises 4.73% year-on-year

Growth to stay below 5 percent in next few years: economist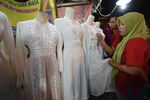 Indonesia promised tax incentives to companies setting up in remote economic zones, as it seeks to attract foreign investment after data showed growth trailing estimates.
Gross domestic product rose 4.73 percent in the three months through September from a year earlier, the statistics bureau said in Jakarta on Thursday. That compared with 4.67 percent expansion the previous quarter, and was less than the median estimate for 4.8 percent growth in a Bloomberg survey of 23 economists.
President Joko Widodo is struggling to revive growth amid declining demand for the country's commodities, stagnating foreign investment and slower domestic consumption. The government's latest package of measures aimed at improving the business climate included tax holidays of up to 25 years for companies establishing businesses in one of eight economic zones dotted around the archipelago.
"Although recent reforms may give some boost to confidence, the changes to the business environment will take time to have an effect on the real economy," Gareth Leather, an economist at Capital Economics Ltd., said in a report. "With tight monetary policy and low commodity prices likely to remain a drag on the economy, we expect growth to remain stuck at around 4.5-5 percent over the next few years."
Finance Minister Bambang Brodjonegoro told Bloomberg News in an interview Thursday that 2015 growth would be 4.8 percent at most. That rate would be the slowest since 2009. President Widodo, better known as Jokowi, initially targeted full-year growth of 5.7 percent in 2015.
The rupiah, Asia's second-worst performing currency this year, was little changed after the GDP data, closing 0.1 percent lower at 13,565 a dollar in Jakarta on Thursday, prices from local banks showed. The benchmark Jakarta stock index fell 0.8 percent.
Capital Spending
On a quarterly basis, the economy expanded 3.21 percent, less than the 3.29 percent forecast and a slowdown from 3.78 percent in the second quarter.
"It appears there are signs of stabilization," said Trade Minister Tom Lembong. "This is quite a positive."
Household spending expanded 4.96 percent in the third quarter year-on-year, while the country's unemployment rate rose to 6.18 percent in August from 5.94 percent a year earlier. A slowdown in domestic consumption, which accounts for more than half the economy, counteracted a 58.1 percent surge in government capital spending.

Total government spending quickened to rise 6.56 percent from a year earlier. After a slow start to the year, authorities have kick started infrastructure projects in recent months, from a Chinese-built dam and $5 billion railway tender to drainage projects and road paving in villages.
Investment grew 4.62 percent in the quarter from a year earlier. Measures to encourage foreigners included tax and customs waivers and the ability to buy property in special zones such as Tanjung Api Api on Sumatra island, Bitung on Sulawesi island and Morotai in eastern Maluku.
Growth in the country's commodity-rich regions has slowed on weaker demand for the country's coal and palm oil. Rules banning raw mineral exports have also hurt the mining industry, which contracted 5.64 percent from a year earlier. Sectors leading growth included communications and financial services.
"I think the economy will only pick up next year," said Arianto Patunru, an economics professor at the Australian National University in Canberra. "I hope next year will be better as global activity starts to rebound and domestic reforms, including infrastructure spending, take effect."
Before it's here, it's on the Bloomberg Terminal.
LEARN MORE