Style
How Not to Destroy Your Dress Shoes This Winter
Make your favorite Oxfords last forever—or at least till next year.
By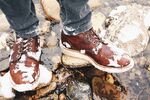 Oh, November. That time of the year again to prepare ourselves for a monthslong battle against the elements. I mean emotionally and mentally, of course, but also sartorially—our wardrobes, and especially our footwear, needs to be ready to get down and dirty with slushy puddles and salted sidewalks. 
Beyond just not wearing your best brogues until spring (my actual No. 1 recommendation, which isn't a realistic option for most), here's an easy guide to keeping dress shoes in tip-top condition no matter what elements Mother Nature tosses your way.  
Prevent and Seal

Condition
"The most important thing to remember is that leather is a skin and needs nourishing and moisturizing just like your own skin," says Tim Cooper, cobbler-in-chief of British shoe brand Oliver Sweeney. He suggests working a weekly protection plan into your schedule—e.g., dedicating Thursday to conditioning and polishing your favorite footwear—to preventdamage before wearing. "Sadly, there's no 'quick trick' to protecting your shoes," he says. "But the more you condition and polish them, the better the leather is able to cope with adverse weather conditions." Cooper naturally recommends his own company's products (Soft Shoe conditioner for regular leather and Hydrophobe Suede Protector, for example), although whatever your local cobbler stocks should suffice. 
Waterproof
Now to waterproofing those bad boys before a rain or snow storm. Coat your leather shoes with a water-and-stain repellant such as Kiwi's Protect All—which blends nicely without altering the color of your shoes—then allow it to dry for at least two hours before wearing. For best results, reapply after a handful of wears. Another suggestion to extend the life of your favorite shoes is to spread out and alternate when you wear them. Allowing a day or so between wears will help them air out properly. Continued damp will degrade the leather faster.
Dry Naturally
Once your shoes are wet, the best way to prevent damage is to get them off immediately to dry them out. Cooper suggests investing in a cedar shoe tree, as the wood is highly absorbent and contains natural oils that help refresh any musty odor. Stuffing them with newspaper is a good alternative, especially if you're not at home or don't have access to a shoe tree. (Read: Always have spare newspaper in your office desk drawer.) Just be sure to always allow them to dry naturally. "Drying your shoes near a source of heat, like a radiator, will crack the leather and make it lose its suppleness," says Cooper. 
Troubleshoot
As for unwanted salt stains: "Diluted white wine vinegar is great for salt stains," says Cooper. He suggests simply wiping the affected areas with the 1-1 solution as soon as possible after getting home. The pH of the vinegar will help counter the corrosive effects of the salt. "Natural beeswax, or carnauba wax, is fantastic for getting leather back into shape as well."
Shield

Cooper says to avoid leather-soled shoes if at all possible during a rain or snow storm—water absorbs into even the hardest leather sole, destroying it over time—and instead opt for something with a rubber commando sole, because it will give your shoes excellent grip and resist moisture. If that's not an option, any cobbler can add rubber patches to your favorite leather-soled oxfords and wingtips. This won't protect the entire shoe, by any means, but it will give the shoes a stronger foundation against the wet surfaces you're bound to encounter. Price ranges between $25 and $50, depending on the shoe and level of service.
But if you really must wear leather soles, get yourself some shoe condoms. Footwear brand SWIMS makes modern, trendy versions (technically called galoshes) in color options that are truly ... cheerful, but the traditional Totes loafer-style rubber shoe covers work just as well. Slip them over your shoes, and even in a monsoon, they'll help keep damage at bay. 
Shop Smart

Or you can avoid trouble all together and get yourself a pair of winter-ready shoes.
For leather, a solid pair of Cordovan dress shoes are worth the splurge/investment and are often made in limited editions. Cordovan is the most durable of leathers and is known to be highly impermeable to water or other fluids. Allen Edmonds, Alden, and Carmina all make excellent options.
Though for a true winter shoe, embrace the comforts of shearling-linings and rubber, like these five ultra-stylish options below.  
Moti Ankari is the associate market editor for Bloomberg. Follow him on Twitter and Instagram, or contact him at mankari@bloomberg.net.
Before it's here, it's on the Bloomberg Terminal.
LEARN MORE