How Mobile Buying Went From Many Screens to One
By and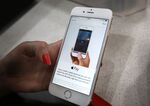 2012: Desktop to Mobile
Consumers turn to apps, social media, and mobile-optimized websites to browse through and buy products on their phones—clicking through five screens to pay. One-click checkout has been around since 1997, when Amazon.com introduced it for desktop users.
2014: Mobile Revolution
In October, Apple introduces Apple Pay, which simplifies checkout by using shoppers' saved information and eases security concerns because it doesn't store card numbers on Apple phones or servers. So-called digital wallets such as Apple Pay will account for the majority of mobile transactions by 2017, according to Nitin Mangtani, CEO of PredictSpring, a mobile commerce company.
2015: Shopping Apps
Mobile sales jump to 15 percent of digital sales after sitting at 11 percent for years, according to analytics company ComScore. Established fashion brands such as Cole Haan roll out one-click-enabled shopping apps. "The bigger the phone screen size is, the more people spend," says Andrew Lipsman, ComScore vice president for marketing and insight. Bigger phone screens make it easier to see products and navigate apps and mobile sites.
2016: Buying More, Browsing Less
Mobile commerce is expected to jump 23 percent, to $142 billion, according to Sucharita Mulpuru of Forrester Research. The bulk of growth will be driven by one-click-enabled apps, according to PredictSpring's Mangtani. "From a consumer and a retailer standpoint, the smartphone is top-of-mind," says Michael Jones, an executive at RetailMeNot, a digital discount site.

Before it's here, it's on the Bloomberg Terminal.
LEARN MORE