Glock Family Feud Reaches Crossroads in U.S. Court
Pistol magnate Gaston Glock's ex-wife says he's a "racketeer" and owes her hundreds of millions of dollars.
by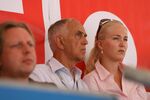 The feud dividing the Glock gun clan of Austria has reached a crossroads in a federal court in Atlanta. The question is whether the U.S. judiciary wants to referee a cross-continent fracas concerning hundreds of millions of dollars in firearm profits and the future of the Glock pistol empire.
A quick recap: Gaston Glock supplies handguns to two-thirds of U.S. police departments—and to millions of individual American consumers. His ex-wife, Helga, has accused him of thieving, money laundering, and racketeering in a massive civil suit filed a little more than a year ago in federal court in Atlanta, near Glock's subsidiary headquarters in Smyrna, Ga. The suit invokes the Racketeer Influenced and Corrupt Organizations (RICO) Act and seeks $500 million plus unspecified punitive damages and attorneys' fees.
This is no ordinary domestic spat. Helga Glock claims Gaston stole her share of a company they built together, beginning in the early 1960s. If the case were to go to trial in the U.S. and air Glock dirty laundry, it could raise serious questions of public policy. These include whether closely held Glock is the sort of company to which U.S. municipalities, federal law enforcement agencies, and military units ought to direct tens of millions of dollars a year in taxpayer funds.
Another question: Do American tax authorities have any concerns about Helga Glock's allegations that her husband and his companies used shell corporations to transfer firearm profits away from the U.S. and toward lower-tax jurisdictions in the Caribbean, Latin America, and Europe?
In court papers, Gaston Glock, Glock GmbH, and its U.S. subsidiary, Glock Inc., have all denied wrongdoing. The defendants portray Helga Glock as a disgruntled ex-wife who doesn't understand the sophisticated international business dealings of her former husband's lucrative companies.
Moreover, the defendants in the RICO case have asked the U.S. court to postpone any proceedings in the racketeering case until after the Glocks have sorted out their incredibly complicated divorce litigation in Austria--a delay that could conceivably last for years, until well after Gaston Glock, 86, has met his maker. 
The federal district court in Atlanta is now poised to decide whether the RICO case will move ahead or will enter a state of indefinite limbo. In a Nov. 3 filing, Helga Glock's lawyer, John Da Grosa Smith of Atlanta, argued that "the factual and legal issues in [the RICO] case do not overlap with matters to be decided by the Austrian courts."
The filing added: "As part of the Glocks' divorce proceedings, Ms. Glock is entitled to alimony payments and a distribution of joint assets because she was [Gaston] Glock's wife. … Ms. Glock's claims here are based on the defendants intentionally harming her as Glock's business partner, depriving her of money to which she was entitled in her own right and not as a former spouse."
Now the American court will decide: former spouse or former business partner? The answer will help determine whether Glock company secrets remain secret or become public knowledge.
Before it's here, it's on the Bloomberg Terminal.
LEARN MORE