EU's Newest State Faces Neck-and-Neck Vote After Six-Year Slump
by
Croat ruling party holds narrow lead before Nov. 8 election

Opposition HDZ party fighting for comeback after graft scandal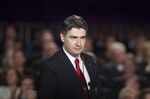 Croatia's ruling Social Democrats, criticized for moving too slowly to end a record economic slump, are fighting to keep power in Nov. 8 parliamentary elections against an opposition party that's mounting a comeback after its ex-leader was jailed for graft.
Prime Minister Zoran Milanovic's party and the Croatian Democratic Union have alternated atop opinion polls in the final stretch of the campaign. The Social Democrats emphasize they steered the Balkan state into the European Union and the economy to growth. The opposition party, known as HDZ, argues that Milanovic failed to do the latter in his first three years in office. It has also attacked the government for its handling of the refugee crisis as hundreds of thousands of migrants trudge through the country en route to Germany and beyond.
"The vote will be very tight," said Zarko Puhovski, political science professor at the University of Zagreb. "Neither side will win enough votes to form a government outright."
Led by former intelligence chief Tomislav Karamarko, HDZ is fighting for renewal two years after it was plunged into political abyss when it was censured for corruption, while its former leader and Prime Minister Ivo Sanader was behind bars for bribery and abuse of power. Appealing to patriotism and focusing its message on job creation, it has been countered by pledges from Milanovic to build on the first economic expansion since 2008 without cutting state spending.
The Social Democrats will win 60 seats in the 151-member parliament, versus 57 seats for HDZ, according to an Ipsos PULS poll released by Nova TV on Thursday. The poll showed Milanovic's party clawing back from a September survey from the same company that, using a different methodology, showed HDZ leading 30 percent to 25 percent. Either will have to join forces with smaller parties to form a majority.
Debt Forgiveness
Croatian bonds have fallen this year, with the yield on the country's euro-denominated debt due in 2025 trading at 4.196 percent on Thursday at 9:43 a.m. in Zagreb, from 3.246 percent when it was issued on March 3.
Milanovic's administration, which won 2011 elections with 40 percent of the vote to HDZ's 24 percent, argues it's dragged the $57 billion economy out of a downturn that wiped 12 percent off the economy, with Finance Minister Boris Lalovac raising the government's growth forecast to 1.5 percent from 1.1 percent this week.
After leading the Adriatic state into the EU in 2013, the government fought to rebuild sagging support this year, passing laws forgiving debt of the poorest Croats and allowing Swiss-franc loans to be converted to euros. The latter move was aimed at 53,000 households hurt by the strengthening Swiss currency.
"The Croatian economy is growing, exports are growing, jobs are growing," Milanovic said at a rally in Zagreb on Tuesday. "If you elect us for another term, we will do even better."
Still, public debt will climb to 91.7 percent of gross domestic product in 2016, according to the European Commission. And while the government estimates a budget deficit of 4.5 percent of gross domestic product this year, a tight election result may complicate efforts to bring the fiscal shortfall below the EU's ceiling of 3 percent, according to Vuk Vukovic, a lecturer at the Zagreb School of Economics and Management.
"The bigger the number of parties in the ruling coalition, the worse it is for public finances and public debt," Vukovic said.
HDZ Comeback
HDZ received a boost last month, when Croatia's Constitutional Court overturned a conviction against Sanader, who was caught in an international manhunt after fleeing to Austria in 2010. It ruled he and his party -- which was also found guilty of corruption and fined in 2014 -- must be tried again over charges of embezzlement and abuse of office.
Sanader, who has maintained his innocence, remains in jail on bail of 12.4 million kuna ($1.8 million), and his former interior minister, 56-year-old Karamarko, has declared the party has endured a "catharsis." While Karamarko has refused to face Milanovic in televised debates and hasn't revealed the details of proposed policies, HDZ is pledging to bring in more investors, revive industry and reduce unemployment that reached 16.2 percent in September.
HDZ is appealing to voters' patriotism by emphasizing the role it played in splitting the Adriatic state from the former Yugoslavia following the fall of communism, Vukovic said. Since 2013, the party has won local and European Parliament ballots, and HDZ candidate Kolinda Grabar-Kitarovic unseated Social Democrat-backed incumbent Ivo Josipovic in the January presidential election.
"The Croatian Democratic Union is the party that has Croatian interests at heart -- the only one," Mario Lugaric, a 45-year-old plumber said as he walked through the main square in the capital overlooked by the Gothic Zagreb Cathedral.
Orban Support
The opposition has also criticized the government for its management of the more than 300,000 migrants who have passed through Croatia since September. Milanovic's administration has organized temporary camps and transportation to aid them on their way, and while he has pledged not to build a fence and to care for the vulnerable, Grabar Kitarovic has called for army to be deployed. At its closing rally on Thursday, HDZ read a letter from Hungarian Prime Minister Viktor Orban, who has invoked the ire of some EU countries for his refusal to admit refugees.
"Croatia faces a historical election, as a mass wave of migrants threatens the country," Orban's letter said. "A change is desperately needed, and I see the one man who can do it: Tomislav Karamarko."
Before it's here, it's on the Bloomberg Terminal.
LEARN MORE