EU Cuts Growth and Inflation Outlook as ECB Decision Looms
by and
Commission sees 2016 euro-area growth at 1.8%, inflation at 1%

Downside risks include hard landing in China, global slowdown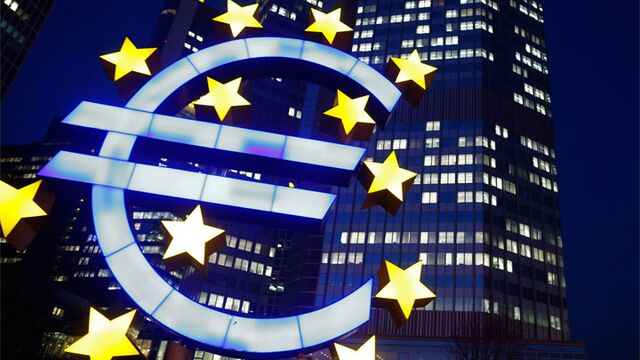 The European Commission cut its euro-area growth and inflation outlook for next year, citing more challenging global conditions and fading impetus from lower oil prices and a weaker euro.
Gross domestic product in the 19-nation bloc is set to grow 1.8 percent in 2016, down from a previous projection of 1.9 percent in May, the Commission said in its autumn forecast published Thursday. Inflation is seen accelerating to 1.6 percent in 2017 from 0.1 percent this year.

The economic recovery in the 19-nation region is resting on unprecedented stimulus by the European Central Bank. With a slowdown in emerging markets weighing on global trade, risks have increased that growth won't be strong enough to sustain the decline in unemployment and bring inflation back in line with the ECB's goal of just below 2 percent.
"Today's economic forecast shows the euro-area economy continuing its moderate recovery," Valdis Dombrovskis, vice president of the European Commission, said in a statement. "Sustaining and strengthening the recovery requires taking advantage of" temporary tailwinds including "low oil prices, a weaker euro exchange rate and the ECB's accommodative monetary policy," he said.
While noting that the recovery has proved to be resilient to external shocks so far, uncertainty surrounding the economic outlook shows few signs of abating. Risks include a larger-than-anticipated slowdown in China and financial-market volatility triggered by a normalization of U.S. monetary policy, according to the report.
In Germany, factory orders dropped 2.8 percent in the third quarter from the previous one amid a slump in demand from outside the euro area, the Economy Ministry in Berlin said in a separate release on Thursday. Orders from within the country and the currency bloc are still supporting manufacturing, it said.
GDP Forecast
The Commission upgraded its euro-area growth forecast for this year 1.6 percent, from a previous estimate of 1.5 percent. Output should accelerate to 1.9 percent in 2017, it said.
Breaking down growth components, the Commission predicts domestic demand will pick up this year and continue to maintain its momentum over the near term, supported by a boost to nominal income, purchasing power and improving labor-market conditions. Meanwhile, investment is forecast to strengthen "gradually," albeit at a lower pace than in past recoveries, pointing to subdued demand expectations, credit-supply constraints and persistent corporate deleveraging pressures.
Reacting to the report, EU Commissioner for Economic and Financial Affairs Pierre Moscovici said the recovery "remains on course," but warned improvement is still unevenly spread across the euro area and major challenges remain going into next year.
"These require bold and determined policy responses in 2016, especially in the face of an uncertain global outlook," he said in a statement.
On the domestic side, the Commission said risks had receded in particular when it comes to the integrity of the bloc, mostly as a result of the Greek deal. In regards to the refugee crisis, Brussels pointed it could have a "small" favorable impact on growth if adequately handled by member states over the short and medium term.
Inflation Outlook
The Commission lowered its inflation outlook for 2016 to 1 percent, from a previous estimate of 1.5 percent. It sees price growth at 0.1 percent in 2015 -- unchanged from its spring forecast.
The latest Commission forecast may provide some insight into what's in store from the ECB, which releases fresh projections on Dec. 3. That outlook is set to guide policy makers in deciding whether more stimulus is warranted.
"There is nothing surprising about the Commission's forecast, it acknowledges that growth is OK, but inflation is below target," said Holger Schmieding, chief economist at Berenberg Bank in London. "It's a little message to the ECB that more action may be needed."
ECB President Mario Draghi has said that the central bank will examine its monetary-policy stance next month. A new round of easing may include more asset purchases and another cut in the deposit rate. In September, the central bank forecast inflation to accelerate to 1.7 percent in 2017, barely in line with its goal.
"Today, like yesterday, we are not constrained in our ability to act; we have many tools at our disposal," Draghi said in a speech in Milan on Thursday. "We are faced with a situation where the price dynamics are very weak, the macroeconomic environment is still uncertain."
He as well has repeatedly called for national governments do to their part, noting that monetary policy can't be the only actor. Reforms aimed at tackling structural imbalances such as high unemployment are "essential" to reap the full benefits of monetary policy, according to the central bank.
Before it's here, it's on the Bloomberg Terminal.
LEARN MORE