Draghi Says QE One of Many Tools ECB Has to Counter Headwinds
by and
ECB president says asset purchases are undoubtedly effective

Says euro-area inflation mustn't be continually too low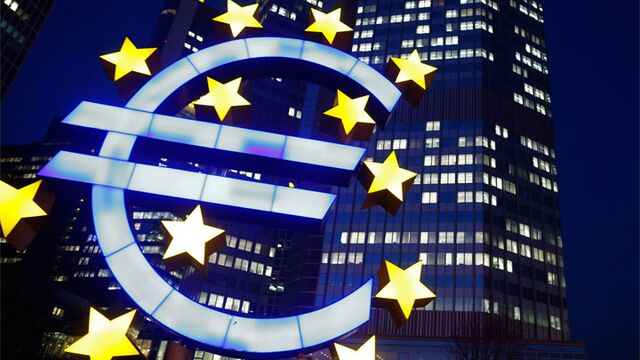 Mario Draghi said the European Central Bank's asset-purchase program could be boosted and other tools may be used to ensure inflation will return to its goal.
"Today, like yesterday, we are not constrained in our ability to act; we have many tools at our disposal," the ECB president said in a speech in Milan on Thursday. "We are faced with a situation where the price dynamics are very weak, the macroeconomic environment is still uncertain."
Nine months into a 1.1 trillion-euro ($1.2 trillion) quantitative-easing plan, inflation is still largely absent from the 19-nation region. With the economy at risk of slowing amid weaker growth in China and a slowdown in global trade, Draghi has held out the prospect of more stimulus next month, when new consumer-price and growth forecasts will be published.
"The program implemented so far was undoubtedly effective. However, we must consider whether, with the weakening of the world economy, it is also effective in countering headwinds that could hinder a return to price stability over the medium term," Draghi said . "If we are convinced that this is not the case, we will examine the modalities to intensify it to achieve our objective."
History Lesson
The European Commission on Thursday cut its outlook for euro-area gross domestic product and inflation for next year, citing more challenging global conditions and fading impetus from lower oil prices and a weaker euro.
GDP in the 19-nation bloc is set to grow 1.8 percent in 2016, down from a previous projection of 1.9 percent in May, the Commission said in its autumn forecast. Inflation is seen accelerating to 1.6 percent in 2017 from 0.1 percent this year.
"Inflation mustn't be either continually too high or too low," Draghi said. "History teaches us that deflation, even if relatively less frequent, can destabilize the economy just as much as excessive inflation."
Draghi said after a monetary-policy meeting on Oct. 22 that policy makers had a "very rich discussion" about all instruments, including an extension of QE beyond its initial end-date of September 2016, an expansion of monthly purchases from the current 60 billion euros, another cut in the deposit rate, and other measures.
Before it's here, it's on the Bloomberg Terminal.
LEARN MORE