Cutting the Cord, Not the Cost
An ever-longer list of streaming-video services offers smaller pay-TV bundles than traditional providers, but that doesn't mean assembling the package you want is much cheaper.
By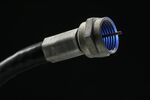 Traditional subscriptions have flatlined, and cable is shrinking.

Partially because the value of a multichannel subscription is less than it appears.
An average U.S. subscriber pays $95.97 a month and receives 194 channels but watches only about 17 channels. That's 50¢ a channel and $5.65 per channel watched.
The number of "cord-cutters" is slowly rising.

It's cheaper to buy just the  Internet ...

But the savings of $54.83 can disappear fast.
Netflix, $9.99
Movies, last season's TV shows, 30-odd original shows (House of Cards, Narcos, Orange Is the New Black)
Hulu, $7.99
Current-season TV shows, movies, a handful of original shows (The Mindy Project, Difficult People, Casual)
You can add Showtime programming (Homeland, Masters of Sex, Ray Donovan) to Hulu for $8.99 per month.
Sling TV, $20
The following channels, plus add-ons ranging from $5 to $15: ESPN, ESPN2, AMC, Food Network, A&E, History, TNT, El Rey, HGTV, IFC, Disney, Polaris, Maker, TBS, Travel Channel, Cartoon Network/Adult Swim, CNN, H2, ABC Family, Lifetime, Galavision, Bloomberg.
Amazon Prime, $8.25*
Movies, last season's TV, and Amazon Prime original programming (Transparent, Catastrophe, Alpha House), in addition to free two-day shipping for Amazon purchases.
*$99 annual fee
YouTube Red, $9.99
Free YouTube plus original programming in the works (Scare PewDiePie, Sing It!, Lazer Team)
HBO Now, $14.99
Movies, boxing, original programming (Game of Thrones, Girls, Last Week Tonight With John Oliver)

Before it's here, it's on the Bloomberg Terminal.
LEARN MORE