Citi: Janet Yellen Has Violated "One of the Cardinal Rules" of Economists
The Fed has been letting the market push it around.
by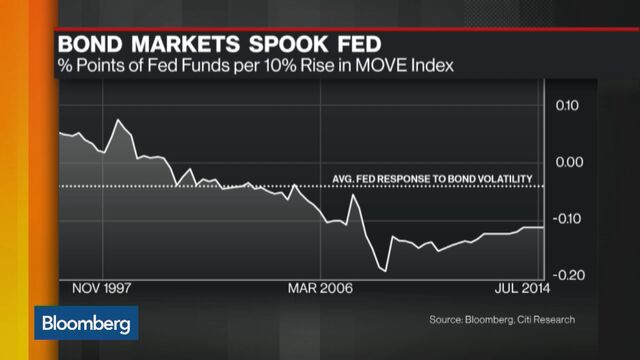 On Wednesday, the Federal Reserve's triumvirate reiterated that liftoff in December was still a possibility.
That possibility is contingent on economic data continuing to show improvements in the labor market that give monetary policy makers more confidence that inflation will trend back to 2 percent over the medium-term.
But Janet Yellen, Stanley Fischer, and William Dudley aren't really data-dependent, according to Citigroup Head of North America Economics William Lee. They're market-dependent.
During an interview on Bloomberg TV, Lee said the Fed seems to react much more to financial market conditions than the evolution of economic data.
The economist put together a model that seeks to track what the federal funds rate should be based on how much progress is being made toward the central bank's dual mandate of full employment and price stability - in essence, a modified Taylor Rule. He then calculates how much actual policy has deviated from the prescribed path based on volatility in bonds, his preferred proxy for market stress. Lee concludes that skittishness in fixed income tends to elicit an easier stance from the central bank than the economic data would imply, especially since the financial crisis:

This, according to Lee, is a huge mistake.
"That violates one of the cardinal rules of a young economist that you learn at the Fed, which is don't let the markets push you around because markets tend to overreact and tend to panic first and think later," said Lee, who worked as a Fed economist prior to joining Citi.
"The boss is violating that cardinal rule that every young economist has learned," the economist continued. "Now she's the insider's insider so that makes it even more disturbing that the boss, who's the ultimate insider boss, has violated those junior rules."
Lee's assertion gels with the findings of a paper co-authored by Eric Rosengren of the Boston Fed, which noted that "Frequent mentions of financial instability terms at the FOMC…result in a statistically significant reduction in the funds rate."
The notion that the Fed has an unspoken tertiary mandate to maintain market calm gained traction in the wake of September's interest rate decision. Monetary policymakers refrained from hiking rates in part due to concerns that August's carnage in financial markets could weaken real economic activity going forward.
Before it's here, it's on the Bloomberg Terminal.
LEARN MORE