Cisco's New CEO Embraces the Cloud
The company isn't letting go of its high-end services, but it's selling more networking equipment with custom software.
By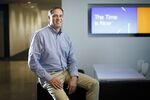 This year, Chuck Robbins inherited one of the toughest gigs in technology, replacing John Chambers as chief executive officer of Cisco Systems. From 2000 to 2010, the networking equipment pioneer averaged 13 percent annual sales growth. Since then, 4.3 percent. Robbins says Cisco has already seen the clouds on the horizon. "You cannot deny what may be happening in the marketplace because it doesn't feel good for your portfolio," he says.
Cisco's pricey combination of hardware and software is becoming a tougher sell, partly because major data center operators, including Google, Facebook, and Amazon.com, are designing their own stripped-down hardware and writing their own code. In August a group of Google's hardware boffins said they've been working for a decade to try to replace traditional data center networking equipment. The market for so-called white boxes—meaning generic models—is still a sliver of the networking industry, but it's growing rapidly. Researcher IDC estimates that annual sales of white-box network switches will rise about 50 percent by yearend, to top $400 million.
Robbins isn't exactly chucking out Cisco's old product lines, but his sales team is focusing increasingly on the company's white-box-like Nexus switches and more open management software. That group of products accounted for $438 million in revenue in Cisco's August earnings report—not a huge chunk of the $12.8 billion in overall revenue, but more than double the product line's 2014 total.

To appeal to companies looking for more highly customized systems, Cisco has also opened up its software to programmers in new ways, making it easier for clients to write their own apps for Cisco products. Robbins is still betting, though, that most corporate IT departments won't want to bother building their networking components from scratch. Cisco is investing in the development of whiz-bang features such as software that can analyze network traffic in real time to detect cyber attacks. "Eighty to 90 percent of enterprises don't have the skill set, the expertise, and the R&D to do integration, nor do they want to spend their time figuring out all of this," says IDC analyst Rohit Mehra.
The company's efforts to expand into networking gear that will connect appliances, cars, and lightbulbs have yet to pay off, but Robbins says he's committed to entering those markets. "When you connect 500 billion things, it's going to create a massively distributed technology landscape," he says. Cisco is working with industrial customers such as Siemens to embed its gear in network-connected machinery, so the data they collect don't have to be sent across the Internet for analysis. The faster feedback is worth it, says Andre Kindness, an analyst at Forrester Research.
Some Cisco investors want to see the new products pay off more quickly. "Chuck and the revamped management team bring an interesting perspective, and there's certainly evidence that they want to make change," says Erik Suppiger, an analyst at investment bank JMP Securities. "I would like to see more evidence of them being able to resurrect some growth." IDC's Mehra says the company has three to five years to sell its least tech-savvy clients on either its cheaper hardware or its higher-end software. To sell to sophisticated data center operators, he says, the window is more like two years—"after that, it's too late."

Before it's here, it's on the Bloomberg Terminal.
LEARN MORE