Chips Aren't Getting Much Smaller, and That Stinks for Intel
Intel says Moore's Law is slowing, and that could make it tougher for the company to elbow its way into mobile.
By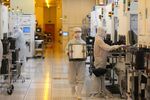 In May, at a San Francisco talk to mark the 50th anniversary of Moore's Law, Intel co-founder Gordon Moore said he was surprised chipmakers have kept it going for so long. Two months later, Intel Chief Executive Officer Brian Krzanich said on an earnings call that the pace is indeed slowing—doubling chip density now takes closer to two and a half years, rather than two.
That trend has huge consequences for the $300 billion semiconductor industry, as the process that's regularly delivered exponentially better computing power for less money may be approaching its limits. Some of the layers of microscopic circuits etched into materials on disks of silicon measure just a few atoms across, so thin that their conductive properties would break down if they got any thinner. Many circuit lines are narrower than the wavelengths of light used to create them. "At some point the equipment, the technology it takes to make the wafer, gets more expensive," says Dan Hutcheson, head of VLSI Research. "That's when Moore's Law fails."

The cost of keeping pace with Moore's Law is rising, and fewer companies are willing to pay up. Building a state-of-the art plant costs as much as $10 billion, and that plant will be obsolete within five years. Three companies—Intel, Samsung Electronics, and Taiwan Semiconductor Manufacturing (TSMC)—will account for about half of the $32 billion in spending on new chip plants and equipment next year, estimates investment adviser Stifel Nicolaus. A decade ago, the top five spenders accounted for 40 percent of the industry's capital expenditures.
For Intel, the industry's high-table stakes have been an advantage, a way to force out those who couldn't spend enough to keep up. The company's remaining rivals haven't seriously challenged its 99.3 percent market share in server processors or its 89 percent of PC chips. But PC shipments are on course to fall below 300 million this year from a 2011 peak of 360 million. The next logical step for giants such as Facebook, Google, and Amazon.com is to consider designing their own chips for their data centers.
Despite more than a decade of trying, Intel has yet to win a significant piece of the mobile market, and the decline of Moore's Law may make it even tougher to break in. TSMC and Samsung have invested heavily in their mobile chip-production facilities to compete for orders from Apple and market-leading mobile chip designer Qualcomm.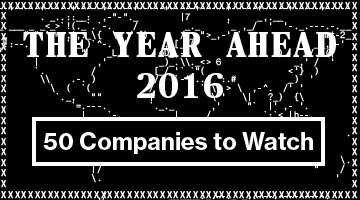 Samsung says it's less worried about Moore's Law. "It is fair to say that semiconductor scaling is becoming more difficult," the company said in an e-mailed statement. "But at Samsung, we are constantly challenging the limits of what was once considered impossible." TSMC didn't respond to requests for comment.
Intel's Krzanich, when asked during the earnings call what his prediction of a tempered Moore's Law meant for his company's competitive position, said the true measure of success will remain output. "We're talking about millions of units and large volumes," he said.
"Intel has been positively unstoppable" as a leader in chip-production technology, James Hamilton, the chief architect of Amazon's cloud services hardware, wrote in an Oct. 11 blog post. Ultimately, though, a slowing of Moore's Law could give TSMC and Samsung more time to catch their mobile chips up to Intel's PC and server models. "There is definitely a narrowing of the gap," says Jim McGregor, head of advisory firm Tirias Research. "Samsung and TSMC can get there. They have the industry support and investment."
Before it's here, it's on the Bloomberg Terminal.
LEARN MORE