China's Slowdown Won't Deter Apple
First-time smartphone buyers are on the wane, but the company keeps relying more heavily on Beijing.
By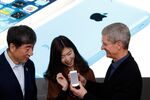 At the Xidan Joycity mall in Beijing in September, 17-year-old student Wu Kai waded through a packed Apple Store to buy iPhones for himself and his girlfriend. He also placed an order for two more for his parents. His family already has just about every other Apple gadget—a Mac desktop and laptop, an iPad mini, and, soon, the new bigger-screen iPad Pro. "Apple products are becoming family members," he said.
Chinese customers such as Wu have helped Apple largely avoid the decline that's affected its smartphone rivals. The smartphone market there is becoming more like that of the U.S., says IDC analyst Ramon Llamas, with fewer than half of all sales being made by first-time buyers. Industrywide, China's smartphone shipments are on pace to grow about 1 percent this year, after increasing 20 percent last year and 64 percent in 2013, according to IDC. Apple doubled its China sales for the quarter ended in September, to $12.5 billion, and sold 13 million iPhones during September's launch weekend for the 6S model. That's 3 million more than last year's iPhone 6 debut weekend, when the phone wasn't available in China.
The question is how long Apple can sustain its pace amid China's economic slowdown. Its deal with No. 1 carrier China Mobile, which made iPhones an option for its 822 million customers in 2014, has been a big part of Apple's recent success. As carriers including China Mobile cut subsidies for high-end phones, says Llamas, "things will taper off for just about everybody."
New products such as the Apple Watch haven't become mainstream hits, and iPad sales are stagnating. Apple's stock is down 8.9 percent from an April high amid concerns that Chinese iPhone buyers can't keep the company growing forever. Channing Smith, managing director at Capital Advisors, which owns Apple stock, says the company may see growth tail off in the short term, but he has faith in services such as Apple TV, Apple Music, and Apple Pay becoming more valuable with time.
Apple has been recruiting more software developers in China, and its app store has more than 250,000 mobile apps made by local engineers—including games based on traditional Chinese stories—up from about 150,000 last year. The company has added keyboard features that accommodate more Hanzi characters, set up a dedicated marketing department in China, and said it'll increase its number of retail stores in the country from 24 to 40 by the middle of next year.
Chief Executive Officer Tim Cook has gone out of his way to alleviate any concerns about Apple's position in China. In September he met with Chinese President Xi Jinping during Xi's visit to the U.S., sitting with him at the head table during a White House state dinner. In October, Cook tweeted photos from the Great Wall and attended a meeting at a Chinese university where he's a board member. On Apple's Oct. 27 earnings call, he repeatedly emphasized his commitments there. "We've been able to grow without the market growing," he said. "We're investing in China for the decades ahead."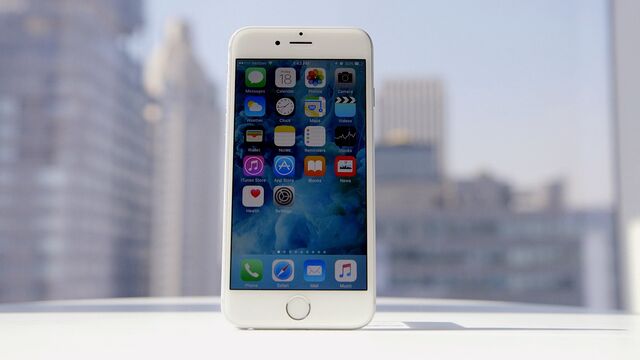 Before it's here, it's on the Bloomberg Terminal.
LEARN MORE