China's Demand for Cars Has Slowed
Overcapacity is the new normal.
Bloomberg News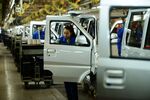 For much of the past decade, China's auto industry seemed to be a perpetual growth machine. Annual vehicle sales on the mainland surged to 23 million units in 2014 from about 5 million in 2004. That provided a welcome bounce to Western carmakers such as Volkswagen and General Motors and fueled the rapid expansion of locally based manufacturers including BYD and Great Wall Motor. Best of all, those new Chinese buyers weren't as price-sensitive as those in many mature markets, allowing fat profit margins along with the fast growth.
No more. Automakers in China have gone from adding extra factory shifts six years ago to running some plants at half-pace today—even as they continue to spend billions of dollars to bring online even more plants that were started during the good times. The construction spree has added about 17 million units of annual production capacity since 2009, compared with an increase of 10.6 million units in annual sales, according to estimates by Bloomberg Intelligence. New Chinese factories are forecast to add a further 10 percent in capacity in 2016—despite projections that sales will continue to be challenged.

"The Chinese market is hypercompetitive, so many automakers are afraid of losing market share," says Steve Man, a Hong Kong-based analyst with Bloomberg Intelligence. "The players tend to build more capacity in hopes of maintaining, or hopefully, gain market share. Overcapacity is here to stay."
The carmaking binge in China has its roots in the aftermath of the global financial crisis, when China unleashed a stimulus program that bolstered auto sales. That provided a lifeline for U.S. and European carmakers, then struggling with a collapse in consumer demand in their home markets. Passenger vehicle sales in China increased 53 percent in 2009 and 33 percent in 2010 after the stimulus policy was put in place. But the flood of cars led to worsening traffic gridlock and air pollution that triggered restrictions on vehicle registrations in major cities including Beijing and Shanghai.
Worse, the combination of too many new factories and slowing demand has dragged down the industry's average plant utilization rate, a measure of profitability and efficiency. The industrywide average plunged from more than 100 percent six years ago (the result of adding work hours or shifts) to about 70 percent today, leaving it below the 80 percent level generally considered healthy. Some local carmakers are averaging about 50 percent utilization, according to the China Passenger Car Association.
Excess capacity is raising the pressure on carmakers to step up margin-destroying discounts to goose sales and keep production lines busy, according to Boston Consulting Group. The markdowns can be huge. Motorists can buy an iEV4 car made by Anhui Jianghuai Automobile for 61,100 yuan ($9,642), 60 percent off its sticker price, according to Autohome, a popular car pricing portal in China. Western models aren't immune to the price slashing. The offering price of Audi's A1 is being cut by up to 35 percent, to 194,900 yuan, in some Chinese cities, according to Autohome. And with capacity growth expected to continue outpacing demand, the industry's return on invested capital in China will decline from 19.1 percent in 2014 to 10.5 percent by 2018, Sanford C. Bernstein estimates.
That's a far cry from the halcyon days of carmakers on the mainland. In 2010 the gross profit margin of SAIC Motor, which manufactures through joint ventures with Volkswagen and GM, stood at 20 percent. At the time, if consumers didn't want to wait months to get their Tiguan SUV made by SAIC-VW, they needed to pay 30,000 yuan more, or 15 percent above the sticker price. Today discounts on some Tiguan models approach 19 percent, and according to data compiled by Bloomberg, SAIC's estimated gross margin for this year will slip to 11.9 percent.
Carmakers recently got help when China's government, prompted by the sharp slowdown in auto sales in this year's first three quarters, announced a tax cut on vehicle purchases from Oct. 1 through the end of 2016. China's purchase tax on vehicles with efficient engines 1.6 liters or smaller has been cut in half, to 5 percent. Buyers have responded, with retail auto sales in the first three weeks after the tax cut rising 11 percent from the same period last year, according to the China Passenger Car Association.
The tax break could postpone the day of reckoning for the industry, especially for smaller manufacturers of cheaper models. But analysts worry that even if small or weak players survive, they won't make enough money to support the investments needed to meet stricter safety and emission standards that China has scheduled for the next few years. The government is requiring auto makers to lower the average fuel consumption of their vehicles to 5 liters per 100 kilometers (1.3 gallons per 62 miles) by 2020, from the current 6.9l/100km. Companies have been developing electric vehicles or adding complex fuel-saving features to meet the tougher standard. But all that takes technical expertise and money—things foreign joint ventures have, but that many small domestic carmakers don't.
Before the tax cut, China's auto regulators had repeatedly urged smaller auto companies to merge or be acquired as part of a strategy to pool resources and nurture a handful of manufacturers that can compete internationally. "The tax cut delays the process of eliminating outdated extra production capacity and clouds the judgment of automakers of the market and capacity expansion," says Xu Gang, a managing director at Boston Consulting Group in Beijing. "Instead of trying their best to become more competitive, some local carmakers are getting used to the idea that the government will help them out when the going gets tough."
Whatever the long-term consequences, Tony Yang, a car salesman in Beijing for Haima Automobile Group, is relieved to catch a break after a lean spell. This year has been the roughest in his three years in sales because "people don't recognize our brand," he says. Haima sold a total of 180,870 vehicles last year—less than 5 percent of market leader Volkswagen's sales. "It's been difficult to sell cars in this climate," he says. "The tax cut helped. I sold four in the past 20 days. I just hope there are more stimulus policies coming."
Even big automakers are tapping the brakes. BMW says it cut production in China in the first seven months of the year by 16,000 vehicles. And Toyota Motor, despite seeing an 11.5 percent increase in China sales in the first nine months of 2015, is treading carefully. It's scheduled to begin production of an assembly line in Tianjin by mid-2018, which will allow it to make an additional 100,000 vehicles a year. But Toyota says that output will be mostly offset by ending production on an existing assembly line elsewhere on the mainland. That kind of caution is fast becoming the new normal for carmakers in China.

Before it's here, it's on the Bloomberg Terminal.
LEARN MORE