Photographer: Brittany Sowacke/Bloomberg
The oil bust is almost a year old. Though prices began sliding last summer, they didn't truly fall off a cliff until Thanksgiving Day, when OPEC announced it would continue pumping oil at the same rate, rather than pull back in the face of the American shale boom. The move was interpreted as an attempt to knock out U.S. drillers, who tended to have higher production costs than most members of the cartel. Over the next two months, the price of a barrel of oil crashed 40 percent to less than $45. After briefly crawling above $60, oil prices have fallen back into the $40 range.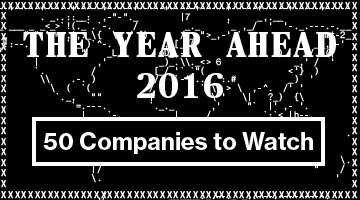 Cheap crude was supposed to cripple the U.S. shale boom, but the industry has proved surprisingly resilient. Costs are down, and better technology is allowing shale drillers to revive older wells and pump more crude with far fewer rigs. They've also recapitalized, borrowing heavily from Wall Street. That's bought them time to hold out for higher prices, and re-calibrate around lower ones, but it's also led to a big problem: Higher borrowing costs are eating into profits. 
Still, rather than abandon the U.S. shale patch, oil companies are diving back in, forgoing expensive mega-projects around the world to focus on some of the most oil-soaked parts of the country in Texas, North Dakota, and Oklahoma.
Pump More With Less
U.S. oil production is expected to fall to an average of 8.86 million barrels a day in 2016, down from 9.25 million barrels in 2015, according to forecasts from the Energy Information Administration. That's pretty remarkable given how quickly oil companies cut the number of drill rigs operating in the U.S. 

Measure Once, Frack Twice
Horizontal drilling allows a rig to reach tricky deposits. Refracking a well drilled only a few years ago can squeeze up to 40 percent more oil out of it. Wells that had been considered tapped out are able to produce more oil than when they were first drilled.  

De Facto Storage
Shale companies have kept drilling wells, but they've stopped completing as many of them. Today there are more than 5,000 drilled-but-uncompleted wells throughout the U.S. This summer, companies in the biggest shale patches, including the Bakken in North Dakota and the Permian and Eagle Ford in Texas, were completing about half as many wells as they were a year earlier.
This is the shale industry's way of investing for the future. Drilling represents about 40 percent of the total cost to construct a functioning oil well. When prices finally do rise, thousands of these drilled-but-uncompleted wells can be quickly tapped, allowing oil companies to boost production without having to spend as much money.  
Whither the Drillers?

Improving technology makes for more productive drilling but that doesn't translate into higher profits when low crude prices force the entire industry to make do with less revenue.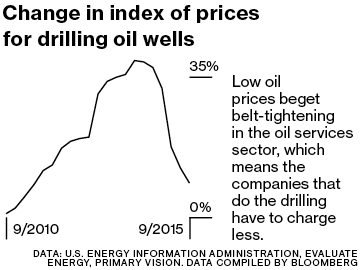 Debt Reckoning
Cheap oil squeezes most producers, who have to borrow to keep pumping just to pay the interest on the money they borrowed. 

Before it's here, it's on the Bloomberg Terminal.
LEARN MORE