pursuits
Mark Carney: Prudent to Expect U.K. Rate Rise in 2016
By and
Bank of England governor comments in exclusive interview

Says foreign investment key consideration in Brexit debate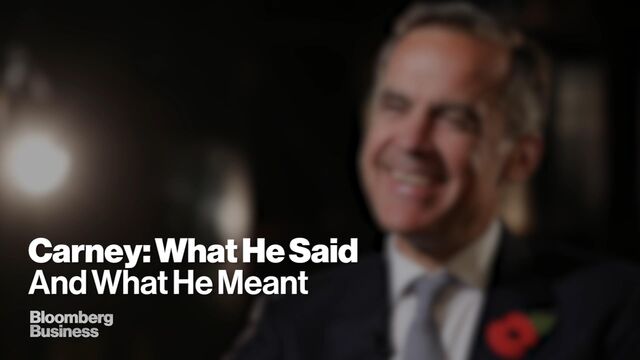 Mark Carney says Britons should be ready for a rate increase in 2016.
"Would I rather have the majority of the British people thinking that rates are likely to go up in the next year, which is the case today? Yes I would, because that is reasonably prudent behavior, given the progress this economy is making," the Bank of England governor said in an interview on Bloomberg Television on Thursday. "At some point, rates are going to move. It's not today, unfortunately."
Carney's remarks provide clues for investors who are currently doubtful over the timing of the first rate increase in more than eight years. The interview comments cemented bets that tightening will come next year.
Forward contracts based on the sterling overnight index average, or Sonia, indicated a full quarter-point boost to the rate in November 2016, compared with earlier mixed expectation that suggested such an increase wouldn't come until 2017.
The governor spoke to Bloomberg after the Monetary Policy Committee kept the benchmark rate at 0.5 percent. Only one member pushed for an increase this month, with the majority saying underlying price pressures "were not strong enough to justify" tightening.

Core Focus
While officials lowered their forecasts for inflation earlier, Carney said it's important to monitor the core measure. That strips out volatile elements such as energy and so excludes imported disinflation from falling oil prices. While Britain's inflation rate turned negative for only the second time since 1960 in September, core inflation was 1 percent.
"My personal view is it is important that we look at it particularly because of this imported disinflation, it shows up through core inflation," he said. "What we want to avoid is to have cost pressures build up too much domestically to the extent that once these foreign factors ultimately pass through the economy, we're overshooting that inflation target because of domestic strength."
---
Mark Carney Interview

Bank of England Governor on:
---
The prospect of a rate increase raises the risk of a double squeeze for Britons, who are already grappling with Chancellor of the Exchequer George Osborne's fiscal tightening. Carney said the government's budget plans don't warrant comment from the central bank on their merits.
"It's really only in extreme circumstances that a central bank should ever weigh in on fiscal policy," he said. "That's only when the stance of fiscal policy actually threatens the ability of the central bank to achieve its objectives, which is certainly not the case in the U.K."
EU Referendum
Turning his attention to the upcoming referendum on Britain's membership of the European Union, Carney said the U.K. must maintain its attractiveness as a place for foreign investment.
"There is a general point from a macroeconomic perspective, which is that the U.K. runs a very large current-account deficit," he said. "That's natural given this economy is growing more rapidly than other economies, that deficit needs to be financed, it is financed with very solid, largely long-term investment flows."
"It's important that this economy continues to be an attractive destination for foreign capital," Carney said. "That's a product of many things."
The U.K. current-account deficit in 2014 climbed to 5.1 percent of gross domestic product, the highest since records began in 1948.

China Risks
The governor noted the risks emanating from China as the country attempts to transform itself from an export-dependent economy to one relying more on domestic demand. While that trend will be positive in the medium term, such major transitions never proceed smoothly, he said.
"Any time you've had a very sharp increase in credit growth, as you've had in China and more broadly in non-Japan Asia, one can expect at some point that there will be an uptick in non-performing loans," he said. While that hasn't happened yet, "one would expect that there would be an increase" as the economy slows.
On the domestic front, the central bank is watching the evolution of the buy-to-let housing market, he said.
"We've decided at this stage we're not acting, we're monitoring closely," Carney said. Regulators are "alert" to any changes in the dynamics, he said.
The Bank of England is "very conscious" that the size of the U.K. financial industry is almost 10-to-15 times bigger than the economy and officials are working to make sure it can resolve failing institutions, Carney said. 
Speaking before the BOE's Open Forum conference on Nov. 11, which will bring together officials and financial-market participants to discuss reform, the governor said authorities are making sure they have the necessary tools.
"The Open Forum is a recognition that progress has been made for institutions and markets so that this economy, this country, this society, can confidently sustain a financial sector of this size if it chooses," he said.
Watch Next: BOE's Carney on Interest Rates, Global Economy (Full Interview)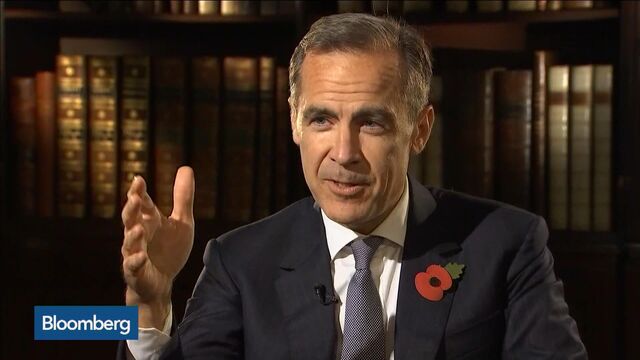 — With assistance by Jill Ward, Simon Kennedy, Fergal O'Brien, and Scott Hamilton
(Updates with market rate bets in fourth paragraph.)
Before it's here, it's on the Bloomberg Terminal.
LEARN MORE