Can U.K. Keep the Lights On? Power Market Says Don't Panic Yet
by and
Power plants halts and outages caused supply squeeze

Network operator says it has ways to meet winter power demand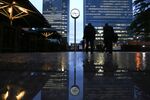 Will the lights go off in Britain this winter?
After a combination of low wind generation and unplanned plant outages pushed the U.K.'s electricity grid operator to take action to manage a supply squeeze on Wednesday, the threat resurfaced of the first power cuts since 2007. Yet traders have signaled consumers needn't be scared yet.
While the temporary loss of coal-fired units and low wind output on Wednesday shrunk extra power supply, known as reserve margins, National Grid Plc says it has tools at its disposal to manage a crunch this winter. On Wednesday it used one new measure to manage lower-than-expected supply when it asked businesses and factories on pre-agreed contracts to reduce consumption.
"I don't think people should get too excited about it," Ashley Thomas, an analyst at Societe Generale SA, said by telephone. "For the vast majority of the year the power market looks very comfortable and for the few hours where we get a period of market stress, it appears to be manageable."
Margins are set to get tighter next year as utilities plan to permanently shut about 5 gigawatts of coal-fed stations in March. Some of that can be offset by the re-opening of gas-fired plants, which have become more profitable after natural gas prices fell to a 15-month low on Thursday.

Natural gas needs to drop to 36 pence a therm ($5.54 a million British thermal units) to be more profitable than plants run on coal in the U.K. at Wednesday's prices for the fuels, power and carbon, according to Bloomberg New Energy Finance. Day-ahead gas traded at 36.2 pence a therm by 11:48 a.m. Thursday on the U.K.'s National Balancing Point, 37 percent below its five-year average, according to broker data compiled by Bloomberg. 
SSE Plc has said it will dust off two gas units and Bloomberg Intelligence predicts more may come online.
National Grid can also lean on its neighbors for help. On Wednesday, it got 200 megawatts of power from Ireland's Eirgrid via the East-West Interconnector to meet consumer demand. It can also turn to the Netherlands and France.
Electricity prices are reflecting confidence in the contingency measures accessible to National Grid. While U.K. month-ahead power rose as much as 1 percent on Thursday, its biggest jump in a month, the contract is at its lowest for this time of year since 2009, broker data show.
"It's undoubtedly very concerning that the National Grid has had to resort to its new 'last resort' measures-–especially so early on in the winter," said Jon Ferris, head of energy markets at Utilitywise, in an e-mailed comment. "However, they were aware that this winter would be tough and prepared appropriately."
Falling gas prices, a reduction in underlying demand due to technological developments and more tools to manage peak demand means it's "extremely unlikely" there will be blackouts in the U.K. this winter, Ferris said.

While the power market will tighten further as more coal plants close, putting security of supply back on the political agenda, the system is not yet in "dire straits," Sanford C. Bernstein & Co., said in an e-mailed report Thursday.
The government shrugged off security of supply risks, with the minister of state for energy, Andrea Leadsom, saying Thursday she was confident the nation has the right tools in place for winter.
Before Wednesday, the last time National Grid issued a Notification of Inadequate System Margin was in 2012. In 2008, 10 such notices were issued, while in 2005 there were eight. It was the first time it used its Demand Side Balance Reserves to lower power use since introducing the measure last year.
National Grid will have a 5.1 percent margin this winter, which is enough to prevent blackouts, Cordi O'Hara, a director at the network operator, said Thursday at a conference in London. Wednesday's squeeze wasn't a harbinger of serious problems this winter, she said.
"Margins are a bit tighter so you should expect us to use a range of tools this winter." O'Hara said. "Whilst it was an event that hasn't happened in a wee while, it's a tool that we have used a lot in the past."
Before it's here, it's on the Bloomberg Terminal.
LEARN MORE