California's Newsom Taps Technology Industry in Bid for Governor
by and
Benioff, Mayer among contributors to $2.7 million war chest

Newsom shaping early campaign around gun control, legal pot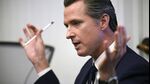 California Lieutenant Governor Gavin Newsom is trying to lock up the state's highest office in 2018 by framing an early-stage campaign around technology-friendly policies, gun control, legal pot and his record promoting same-sex marriage.
This week, Newsom advocated defeat of a San Francisco ballot measure to curb short-term home-stay companies such as Airbnb Inc., which critics accuse of driving up the city's housing prices.
"The old paradigm of leadership was command and control," Newsom, 48, said in a Nov. 3 interview at Bloomberg's San Francisco office. "Now in my argument it's climate control. It's about creating conditions in which entrepreneurial energy can thrive, not just survive. It's part of a larger narrative of flexibility and openness and addressing changing realities."
Newsom rose to national prominence in 2004 as San Francisco mayor when he began issuing wedding licenses to same-sex couples, marking the start of the gay marriage movement in the U.S. that culminated in the Supreme Court's decision in June to legalize the practice. He said the decision alienated him from some political backers, but he felt morally compelled to do it.
Past Campaign
He ran unsuccessfully for governor in 2010 and in February became the first candidate to announce a bid to replace Jerry Brown, the longest-serving governor in California's history whose last term ends in 2018. Newsom is backing California ballot measures to legalize recreational use of marijuana, raise the state's minimum wage to $15 and treat ammunition sales like gun sales.
Gun control "is to me a profound ethical and moral issue," Newsom said. "California in many respects is no longer leading in gun safety. In California, we know that those who have registered assault rifles -- over 1,400 are in the hands of people who have been convicted of a felony or a violent misdemeanor or are dangerously mentally ill."
He said he supports legalization of recreational marijuana use because of inequities in the justice system that result in more arrests for blacks than whites.
"That said, I don't smoke it, I don't like it, I don't want to see it advertised," Newsom said.
$2.7 Million
Newsom has raised $2.7 million in the first half of this year, pulling heavily from the state's tech elite. Sean Parker, the billionaire former president of Facebook Inc., and Salesforce.com Inc. Chief Executive Officer Marc Benioff each gave the maximum amount of $56,400, while Yahoo! Inc. CEO Marissa Mayer gave $54,400, according to data from the California secretary of state's office.
Newsom withdrew his bid for governor in 2010 after Brown took a commanding lead in both polls and fundraising. Newsom switched course, ran for lieutenant governor and won. He's serving his second term.
Potential contenders to challenge Newsom include former Los Angeles Mayor Antonio Villaraigosa and current Mayor Eric Garcetti, along with venture capitalist and former state controller Steve Westly and billionaire environmentalist Tom Steyer, who could self-fund their campaigns.
"We've got to raise an absurd amount of money," Newsom said. "There may be a number of people self-funding that will be running against me. That's why we started early."
Harmeet Dhillon, vice chairman of the California Republican Party, called Newsom a charismatic but flawed politician whose pro-business stance "is good rhetoric," she said.
'Doubt It'
"But do I think that Republican voters are going to look at Gavin Newsom and think he's the guy to carry that out? I doubt it," Dhillon said.
Newsom said he's convened 33 teams on a variety of subject matters, including homelessness, childcare and mental health, to prepare his platform for his run.
California's economic health -- measured by employment, home prices, tax revenue and other indicators -- improved the fastest after Michigan and Colorado since 2011, data compiled by Bloomberg show. California companies have provided total return of 109 percent since 2011, compared with 78 percent for the Russell 3000 index, the data show.
"This is all encouraging data for the state, which flies in the face of a lot of the rhetoric about public policy and governance," Newsom said. "If there's one thing that Jerry has proven it's you don't have to be profligate to be progressive. And I think he's proven Democrats can govern."
Still, Newsom said, the state could do more to lure business and promote its successes.
'Celebrate Success'
"California has a lot to celebrate," Newsom said. "We have companies moving in every day into the state. You would never know it. We don't celebrate success. You only know when the company leaves."
Newsom entered politics in 1996 when then-San Francisco Mayor Willie Brown appointed him to the parking and traffic commission and later to the San Francisco Board of Supervisors, which functions as the city council. He was elected mayor in 2003 and served two terms. Newsom is the founder of PlumpJack Group, a collection of 18 hotels, wineries and restaurants in San Francisco, Napa Valley, Lake Tahoe and Marin County.
As lieutenant governor, he's focused efforts on promoting California's competitiveness to the business community, including releasing a report in 2011 with an agenda to streamline state agencies that deal with businesses, promote clean energy and manufacturing and increase exports.
Newsom commended Brown for the state's budget turnaround, moving the state from a $27 billion deficit when he took office four years ago to a record surplus.
Brown "has carved out a very intriguing and a very formidable governance frame that folks like me can learn a lot from," Newsom said. "That said, I don't know who else is going to run. I'm not thinking much about that right now."
Before it's here, it's on the Bloomberg Terminal.
LEARN MORE