Bond Yields Buoyed Around Globe as Fed Rate-Boost Odds Beat 50%
by and
Fed Chair Yellen says higher rates still a possibility in 2015

Index of global sovereign debt has fallen this month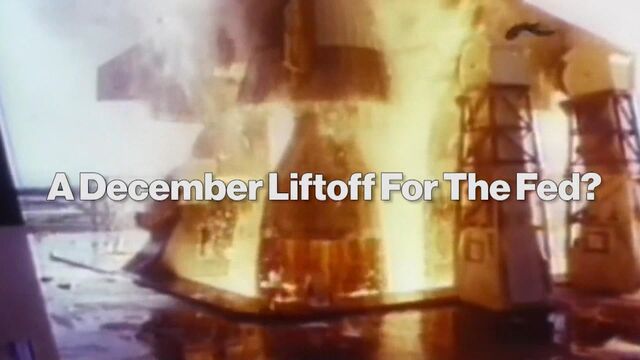 Global bond yields climbed to a seven-week high after Federal Reserve Chair Janet Yellen said a U.S. interest-rate increase remains a possibility for 2015.
Her comments Wednesday left the odds of the Fed tightening policy by its December meeting hovering around 54 percent, while the yield on the Bloomberg Global Developed Sovereign Bond Index climbed to the highest since Sept. 16. Traders now have their eyes on the October payroll report, to be released on Friday, after the Labor Department reported Thursday that the number of Americans filing for unemployment benefits climbed to the highest level in five weeks.
"The tone has changed, people are now anticipating the Fed to tighten in December, and tomorrow's employment report is going to be critical," said Larry Milstein, managing director of government-debt trading at R.W. Pressprich & Co. in New York. "You're going to need a pretty significant miss to get the Fed off tightening in December."
Two-year Treasury yields, the coupon maturity most sensitive to changes in Fed policy, climbed for a seventh day to the highest since 2011 Thursday. Ten-year German bund yields reached a two-week high, even as investors awaited a potential boost to the European Central Bank's quantitative-easing program next month. And similar-maturity Australian yields jumped for a sixth day.

Employment Data
U.S. two-year note yields climbed three basis points to 0.84 percent as of 10:17 a.m. in New York, according to Bloomberg Bond Trader data. The yield on Bloomberg's global sovereign-bond gauge climbed to 1.09 percent Wednesday. The index has fallen 1.1 percent this month and 3.7 percent in the past year.
Employers probably added 182,000 workers last month, after hiring 142,000 in September, according to a Bloomberg survey of economists before Friday's jobs report. After this week, the U.S. will issue one more employment report prior to the Fed's Dec. 16 rate announcement.
"The fact that Yellen repeated that the door was open for something in December is clearly bearish globally" so yields are "under upward pressure," said Patrick Jacq, a senior fixed-income strategist at BNP Paribas SA in Paris.
Yields Increase
The increase in yields around the world underscores the Fed's influence on global debt markets. Treasuries are driving borrowing cost higher even as growth slows in China and central bankers in Europe and Japan signal they may increase their debt-purchase programs.
The 54 percent odds traders give to a Fed rate increase next month compares to33 percent on Oct. 2.The calculation assumes the effective fed funds rate averages 0.375 percent after the first increase.
Before it's here, it's on the Bloomberg Terminal.
LEARN MORE