Carney Signals Bank of England Rate Can Stay Low as China Drags
by and
Officials vote 8-1 to keep key rate at a record low 0.5%

Pound falls as investors push back bets for higher rates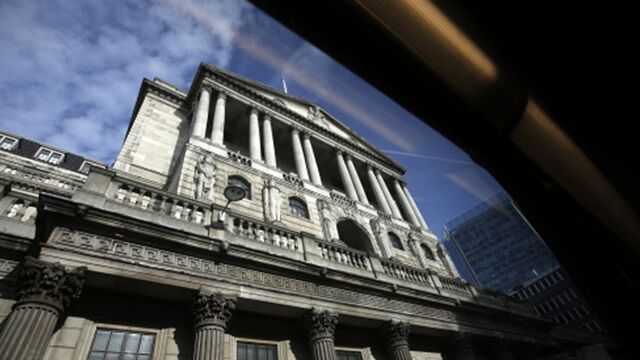 Mark Carney signaled the U.K. needs record-low interest rates for a while longer as China drags on the world economy.
"Monetary policy must continue to balance two fundamental forces -– domestic strength and foreign weakness," the Bank of England governor said at a press conference in London on Thursday. "The outlook for global growth has weakened since August. Many emerging-market economies have slowed markedly this year, and the committee has downgraded its assessment of their medium-term growth prospects."
Carney spoke after the central bank trimmed its growth and inflation forecasts for this year and next. Consumer-price growth will remain below 1 percent -- less than half the central bank's target -- until the second half of 2016 and there are downside risks to this outlook as the strong pound continues to exert pressure, it said in its quarterly Inflation Report.
---
Mark Carney Interview

Bank of England Governor on:
---
Sterling weakened after the release of the report, which suggested risks from emerging markets had intensified. The Monetary Policy Committee kept the benchmark rate at 0.5 percent, with only one member pushing for an increase, and the majority saying underlying price pressures "were not strong enough to justify" tightening. Some economists had predicted a second official would join the call for an immediate increase.
Coming up: watch an exclusive interview with Mark Carney on LIVE <GO>
"There remain downside risks to this outlook, including that of a more abrupt slowdown in emerging economies," officials said in a statement. "The outlook for inflation reflects the balance between persistent drags from factors such as sterling and world export prices, and prospective further increases in domestic cost growth."

The quarterly Inflation Report shows the BOE continues to edge only very slowly toward what will be its first rate increase since 2007. On the other side of the Atlantic, Federal Reserve Chair Janet Yellen has kept the door open to a U.S. tightening as soon as next month, saying a move that month is a "live possibility" if economic data remain strong.
Carney's assessment of the international outlook was less sanguine than Yellen's. The Fed recently toned down its statement that global developments "may restrain economic activity somewhat," to say only that the central bank is monitoring the international situation.
Rate Expectations
The pound sank after the report and extended declines as Carney spoke, falling 0.9 percent to $1.5247 at 2:44 p.m. London time. It weakened 1.1 percent to 71.38 pence per euro. Forward contracts based on the sterling overnight index average, or Sonia, indicate that a full quarter-point boost to the official bank rate won't come until after December 2016. Prior to the BOE decision, contracts signaled an increase in November next year.
"The surprise was that no one joined Ian McCafferty in voting for an immediate 25 basis point rate rise," said James Knightley, an economist at ING Bank NV in London. "This clear dovish shift in the BOE's thinking seems a little odd in an environment where the growth numbers are looking pretty good."
In the U.K., the MPC said domestic demand will continue to be supported by cheaper energy and a lower yield curve. Most of the risks emanate from overseas. It lowered its 2015 and 2016 GDP forecasts -- to 2.7% and 2.5% -- and raised its 2017 projection to 2.7 percent.

On inflation, it cut its outlook out to the third quarter of 2017. It sees price growth at 2.1 percent in the fourth quarter of 2017 and about 2.2 percent a year later, above the 2 percent target. Those forecasts are based on investor bets that rate increases won't begin until early 2017 and indicate that tightening will be needed sooner than then. The cut-off point for the report was late October and the yield curve has steepened since then, pricing in a hike by November 2016.
Carney's Letter
The BOE repeated its argument that much of the deviation of inflation from the goal is due to cheaper energy and a stronger pound. In a letter to Chancellor of the Exchequer George Osborne published alongside the report, Carney said officials are ready to take "whatever action is needed."
He also said the MPC aims to get price growth back to the target in "around" two years, a change from previous language of "within" two years as external price pressures prove to be more persistent.
Carney also addressed the actions that the MPC could take should downside inflation risks crystallize, and these included extending the asset-purchase program or cutting interest rates further toward zero. However, he said in the press conference that officials didn't discuss a cut in the key rate.
"Under the central case set out in today's Inflation Report, the MPC judges it more likely than not that Bank Rate will need to increase over the forecast period," Carney said in his letter, without providing any additional clues on the timing.
Minutes of this month's meeting showed that while McCafferty argued there are upside inflation risks, the committee had a "wide spread of views" on the outlook.
Vote Split
The MPC also offered fresh analysis of how its exit from emergency stimulus might occur, having previously said that gilt sales will only start after a number of rate increases. It said it won't start selling bonds acquired during its quantitative-easing program until its benchmark interest rate reaches 2 percent.
Policy makers expect to keep the stock of purchased assets at the current level of 375 billion pounds ($572 billion) until the rate "has reached a level from which it can be cut materially," the central bank said. A final decision will "reflect the economic circumstances at the time."
Before it's here, it's on the Bloomberg Terminal.
LEARN MORE