Bank of England's Carney Sees China Bank Risk in Rebalancing Act
By , , and
Governor expects to see rise in China's non-performing loans

BOE downgraded U.K. economic outlook on weak emerging markets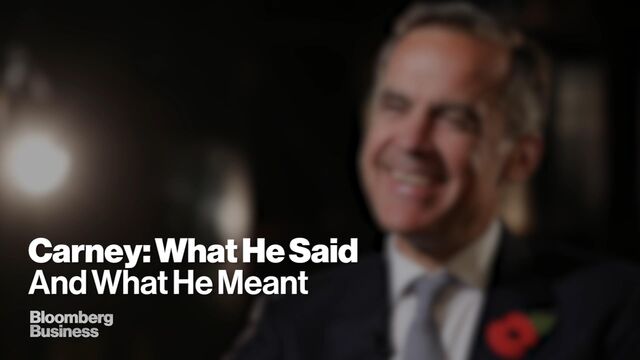 Mark Carney warned that the slowdown in China as it tries to rebalance risks hurting its banking sector as well as threatening growth in economies such as the U.K.
"These processes never proceed smoothly and we'll all have to deal with the bumpiness that comes with it," the Bank of England governor said in an interview with Bloomberg on Thursday. "It's the second-biggest economy in the world."
Carney expressed his concern hours after the U.K. central bank blamed weakening emerging markets for a downgrade in its outlook for the British economy. His worries over the risks posed by international events echo those of European Central Bank President Mario Draghi, who is readying for fresh euro-area stimulus, while contrasting with Federal Reserve Chair Janet Yellen as she signals a U.S. interest-rate increase.
"The BOE has clearly followed the lead of the ECB and not the Fed by prioritizing a weak external environment over domestic developments," said Oliver Harvey, macro strategist at Deutsche Bank AG in London.
Debt Dynamics
Carney, who also chairs the Financial Stability Board, said he expected China's economic expansion will slow to a rate of about 6 percent, and predicted an increase in bad debt at its banks as a result. Total government, corporate and household debt as of mid-2014 equaled 282 percent of its annual economic output, according to McKinsey & Co.
"The debt dynamics get more difficult and so one would expect that there would be an increase in non-performing loans and banks would have to adjust to that," Carney said. "That process of adjustment through the financial sector is one of the reasons we think growth there is going to slow."
Signaling that the U.K. still needs record-low interest rates, the BOE said on Thursday it sees its economy growing 2.7 percent this year compared with its 2.8 percent forecast of August. It cut its prediction for 2016 to 2.5 percent from 2.7 percent.
'Financial Contagion'
While acknowledging that China takes just 3 percent of British exports, the Monetary Policy Committee said a slowdown there could infect the U.K. by hurting mutual trading partners. A sharper deterioration would risk harming asset prices, British banks exposed to the Asian nation, and confidence among companies and consumers, it said.
All told, if Chinese gross domestic product fell by 3 percent from its trend, U.K. output would be 0.3 percent lower, the MPC said. It conceded that China's rising heft in the world's economy and financial markets meant the impact could be larger.
"The Bank of England has identified financial contagion from China as a key downside risk," said Oliver Jones, an economist at Fathom Financial Consulting Ltd. in London. "We agree wholeheartedly."
Shifting Thinking
It's a shift in Carney's thinking from August, when he presented the bank's previous forecasts. He told reporters then that the U.K.'s financial links to China "are nowhere near as strong as the scale of that economy would suggest," and said risks to global growth are "skewed moderately to the downside" to reflect risks from Europe and China.
For all his concern, Carney said in the interview that Chinese banks have "very strong" capital positions and that its authorities are aware of the risks. He also noted signs that the country's leaders are successfully rebalancing their $10 trillion economy away from exports and debt-fueled investment toward consumption. Alongside financial reforms and the liberalization of the yuan, that should mean more sustainable expansion in the medium term, he said. 
The BOE's increased pessimism was not just a "China story" and had its roots in the broader slowing of emerging markets, Carney said. Such economies are suffering from the end of the commodity boom, a decline in capital flows and a past failure to boost productivity.
"These are not a series of idiosyncratic issues," Carney said. "They're broader issues and that's why we made the bigger adjustment."
His warning came a day after Draghi said the "weakening of the world economy" may mean more stimulus is needed in the euro-area. By contrast, Yellen and fellow Fed policy makers last week revised their policy statement to remove a line from September that global economic and financial developments "may restrain economic activity somewhat."