Aussie Celebrity Realtor Seeks IPO After Housing Rally
by
McGrath public offering to raise as much as A$135.2 million

Sydney property prices have surged more than 40% in 3 years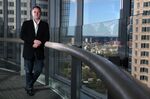 McGrath Ltd. and its owners are seeking to raise as much as A$135.2 million ($97 million) in Australia's first initial public offering by a real estate agency after three years of surging home prices.
Existing investors, including millionaire founder John McGrath, plan to sell 31 million of their shares as part of the IPO, while 29.4 million to 36.8 million new shares will also be issued, according to terms for the deal obtained by Bloomberg. The stock will be offered to investors in a range of A$1.80 to A$2.25 apiece and the company is expected to commence trading on the Australian Stock Exchange on Dec. 9. The sale may value the real estate agency at as much as A$295.7 million.
The share sale coincides with declining clearance rates at home auctions in Sydney and Melbourne, a sign that increasing unaffordability and softer demand from Chinese buyers are starting to weigh on one of the world's most expensive residential property markets. The price of an average house in Sydney, one of McGrath's main markets where homes are largely sold through a bidding process, has soared to just shy of A$1 million.
"It's a bit of a tentative time for a property IPO," Angus Nicholson, a market analyst at IG Markets Ltd., said by phone. "The housing and real estate markets are in for a bit of a tough time. A lot of the steam has really dropped out of Sydney and Melbourne and we would expect the volume of transactions to go down as well."
Holding On
Chief Executive Officer McGrath will own 26.7 percent of the company after the IPO, down from 58.4 percent, according to the prospectus. Chief Operating Officer Geoff Lucas will hold 4.2 percent, down from 9.2 percent. The pair and other existing stakeholders have pledged not to sell any of their shares for two years, according to people with knowledge of the matter, who asked not to be identified as the information is private.
McGrath, which owns some branches and operates others under franchises, agreed last month to buy 10 offices controlled by one of its Sydney franchisees, Shane Smollen. The terms were not disclosed. Smollen's group will own 7.6 percent of the company after the IPO, according to the prospectus.
About A$62.8 million from the IPO will be used to pay existing shareholders, A$31.5 million to pay for the Smollen acquisition and A$15.9 million to repay debt, the prospectus shows. About A$7.9 million will be for working capital.
A representative for McGrath in Sydney declined to comment on any IPO-related matters.
Surging Sales
McGrath, who frequently appears on television and has been a panelist on Shark Tank, a show seeking to fund ideas by entrepreneurs, founded the eponymous agency in the late 1980s.
The real estate agency sold A$12.3 billion of residential property in the financial year ending June 30, according to its website. The company's monthly sales exceeded A$1.46 billion in March from 1,281 transactions, an all-time high, according to the website.
McGrath operates on the east cost of Australia, predominantly in New South Wales and the Australian Capital Territory, and has a growing presence in Queensland state, according to the prospectus.
The real estate agency is in the process of establishing an operation in Victoria state, the prospectus showed. McGrath has a 7.2 percent market share in NSW and 5.4 percent in the ACT.
The proportion of home auctions in Sydney that successfully found a purchaser has plummeted to the mid-60 percent range from more than 90 percent earlier in the year as buyers balked at prices and the banking regulator clamped down on mortgage lending.
Reserve Bank of Australia Governor Glenn Stevens said Thursday in a speech in Melbourne that the housing market may be calming, lessening risks, though by how much and how persistently is too early to say.
Bell Potter Securities Ltd. and JPMorgan Chase & Co. are managing the share sale.
(An earlier version of this story was corrected to remove a reference to McGrath having a presence in Victoria.)
Before it's here, it's on the Bloomberg Terminal.
LEARN MORE