Dollar Surges, Bonds Drop on Rate Speculation; Banks Rally
by and
Payrolls increase by 271,000 in October, jobless rate at 5%

Fed futures signal 68% possibility of hike in December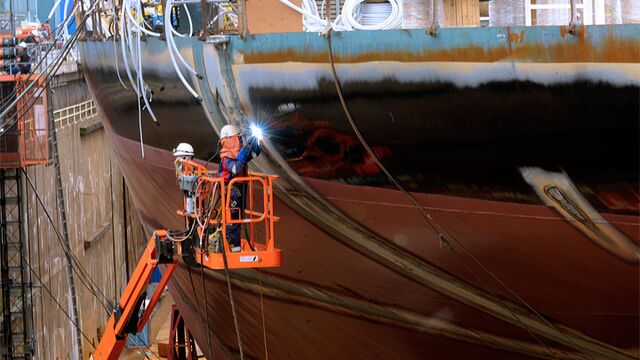 The dollar surged past this year's high and Treasuries tumbled after American hiring grew more than analysts estimated, bolstering speculation the Federal Reserve will raise interest rates next month. Banks led gains as U.S. stocks erased early losses.
The greenback gained against 15 of its 16 major peers, while a rally in financial shares helped offset losses in utility stocks. European shares erased losses to cap a weekly advance as the weak euro bolstered exporters. Emerging-market assets tumbled, while the yield on 10-year Treasury notes spiked past 2.30 percent, the most since July. Gold slumped below $1,100 an ounce as commodities fell to a 1999 low.

Employment in October jumped by the most this year, wage growth accelerated and the jobless rate fell to 5 percent. The report sent the odds for a December rate hike past 70 percent, as Fed officials continue to signal they are prepared to raise the borrowing target this year as economic growth shows signs of accelerating.
"The jobs market is moving in the right direction," said Chad Morganlander, a money manager at Stifel, Nicolaus & Co. in Florham Park, New Jersey, which oversees about $170 billion. "You're seeing a real-time adjustment to the yield curve, and that's quite sensitive to all risk markets. There will also be an earnings drag as rate speculation leads to a stronger dollar, which will weigh on corporate top-line growth."
Stocks
The Standard & Poor's 500 Index was little changed at 4 p.m. in New York, erasing a loss of as much as 0.8 percent. The gauge capped its sixth straight weekly advance, the longest streak of the year as it rallies back from a summer swoon.
Utility stocks led declines as the higher bond yields makes shares with high dividend yields less attractive. Multinational companies from Procter & Gamble Co. to Caterpillar Inc. and Coca-Cola Co. fell at least 0.5 percent. Banks rallied on an improvement in their earnings prospects. Energy shares slid as oil fell below $45 a barrel in New York.
"Multinational companies are going to continue to have a hard time, so we're concentrating on companies that have U.S.-centric revenue streams," Mark Spellman, a fund manager who helps oversee $4.2 billion at Alpine Funds in Purchase, New York, said by phone. "We'll continue to look for financials that will benefit from higher rates. Mind you, I think we'll have time and continue to have volatility, so it's not like you've missed it."
Comments earlier this week from Yellen helped put the brakes on a rally that had carried the S&P 500 to within 1 percent of its record. The benchmark has risen as much as 13 percent from an August low. Gains in the past two months have been paced by a rebound in commodity shares, after they led declines during a summer selloff.

The Stoxx Europe 600 rose 0.3 percent, erasing a loss after the jobs data. Banks paced gains with a 2.3 percent advance.
Currencies
The Bloomberg Dollar Spot Index, which tracks the U.S. currency against 10 major peers, rose 1.1 percent, hitting the highest level in data going back to 2005. The dollar advanced 1.3 percent to $1.0745 against the euro and 1.2 percent to 123.19 yen.
Futures traders now put the odds of a December rate increase at 68 percent, up from 50 percent a week ago and 36 percent last month. The calculation assumes the effective fed funds rate averages 0.375 percent after the first increase, compared with the current zero-to-0.25 percent target range.
"It's a shocking number," said John Canally, chief economic strategist at LPL Financial Corp. in Boston. "People need to prepare for a December rate hike."
Bonds
Yields on 10-year U.S. Treasuries surged 10 basis points to 2.33 percent, following a four-day increase as bets on a Fed move next month crept up. The rate on the more policy-sensitive 2-year note jumped six basis points to 0.89 percent.
The yield on the Bloomberg U.S. Treasury Bond Index climbed to 1.64 percent Thursday, the highest level since July 13. The gauge headed for a third weekly loss, with the decline totaling 1.2 percent.
Emerging Markets
The MSCI Emerging Markets Index fell 1.5 percent, paring its advance this week to 0.4 percent. As many as 11 exchange rates including Turkey's lira tumbled a minimum of 1 percent versus the dollar.
Taiwan's Taiex index fell 1.8 percent, the steepest loss since Sept. 23 as Acer Inc. sank 6 percent after reporting a quarterly operating loss and Largan Precision Co. declined 7.5 percent on a slowdown in sales growth.
In China, the Shanghai Composite Index added 1.9 percent. The measure entered a bull market Thursday, just two months after a stock rout made it one of the worst-performing indexes in the world. Chinese regulators took extreme action to stanch the selloff, including banning major stockholders from selling shares and curbing the practice of short selling.
Commodities
The commodity meltdown worsened, sending prices to the lowest in 16 years and dragging down shares of mining companies and energy producers. The Bloomberg Commodity Index, a measure of returns for 22 components, dropped 0.7 percent after earlier tumbling to the lowest since 1999.
Bullion had the biggest weekly drop in a year after the payrolls data. Higher rates cut the appeal of the metal because it doesn't pay interest or give returns like assets such as bonds or equities.
Gold futures for December delivery fell 1.5 percent to $1,087.70 an ounce in New York. Prices are down 4.7 percent this week, the biggest such loss since Oct. 31, 2014.
Oil fell for a third day as the dollar surged. West Texas Intermediate for December delivery fell 2 percent to $44.29 a barrel in New York. Prices are down 4.3 percent this week. Brent crude for December settlement fell 56 cents to $47.42 a barrel.
Before it's here, it's on the Bloomberg Terminal.
LEARN MORE