Adidas Trims Golf Unit as CEO Hainer Engages With Investors
by and
Southeastern and Sawiris said to be in talks with management

Sportswear maker to cut about 200 employees from golf business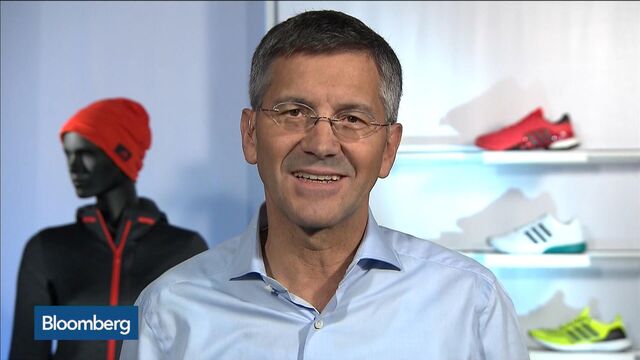 Adidas AG said it's cutting more than 200 jobs at its languishing golf-gear division as the German sportswear maker prepares the unit for a sale and tries to appease investors including Southeastern Asset Management Inc. and Egyptian billionaire Nassef Sawiris.
The golf workforce will shrink by about 14 percent this year, Adidas said Thursday. That follows a 13 percent drop in currency-neutral sales so far this year at the business, which makes $425 TaylorMade drivers. Adidas has hired Guggenheim Partners LLC to look at options for the money-losing unit, and Chief Executive Officer Herbert Hainer said the review will conclude by the first quarter of 2016.
"No matter what the outcome of the strategic review will be, we continue to press ahead with our far-reaching restructuring plan," Hainer, 61, said on a call with reporters. "We're working on more than 40 different initiatives."
The golf sale is one part of Hainer's plan to turn around Adidas while the company seeks his successor after almost 15 years in charge. Adidas has streamlined its soccer-shoe lineup and focused marketing on big cities like New York and Shanghai. Investors such as Southeastern are pressing for an outsider to lead the company, and last week Sawiris, Egypt's richest man, disclosed that his NNS Holding owns 6 percent of the voting rights, making him the biggest shareholder.
Southeastern and NNS are in constructive talks with Adidas management, according to people familiar with the matter, who asked not to be identified because the topic of discussions are private. The talks are at an early stage, the people said. Adidas is "open to listening" to anyone, Hainer said on the call.
Increased Forecast
Sawiris has taken an active role at companies he buys stakes in, including cement maker LafargeHolcim Ltd. and building-materials company Texas Industries Inc. An external successor to Hainer would be best to help Adidas catch up with American rival Nike Inc., according to Southeastern, which owns more than 3 percent of Adidas. Hainer is the longest-serving CEO in Germany's benchmark DAX Index.
This isn't the first time that Southeastern and NNS have invested in the same company. They were large shareholders in Texas Industries before it agreed to be bought by competitor Martin Marietta Materials Inc. in 2014.
Another investor in Adidas is Groupe Bruxelles Lambert SA, the investment firm backed by Belgian billionaire Albert Frere, which holds a 3 percent stake, according to a July filing. Frere and Sawiris were the two biggest shareholders in Lafarge before it merged this year with Holcim to create the world's biggest cement maker.
Adidas also raised its full-year revenue, gross margin and net income targets Thursday. The Herzogenaurach-based company reported a 10 percent gain in third-quarter profit that beat analysts' estimates, led by sales growth in western Europe and China. The shares rose 8.6 percent, the steepest one-day gain since December 2008.
"The third-quarter numbers let Hainer gain some more time," said Cedric Rossi, an analyst at Bryan Garnier & Co. in Paris. "The strategy unveiled in March is starting to yield some results."
Contract Extension
The company also said it would extend the contract of Roland Auschel, head of global sales and a candidate to succeed Hainer, by three years to 2019. The contract of Eric Liedtke, another director considered a candidate for the top job, expires in March 2017, as does Hainer's.
Third-quarter sales rose 18 percent to 4.76 billion euros ($5.17 billion), topping analysts' average 4.51 billion euro estimate.
Before it's here, it's on the Bloomberg Terminal.
LEARN MORE