Ackman Was Right: Valeant Skimps on Washington Lobbyists
by
Underinvesting in government relations a `meaningful mistake'

Drugmaker spent $60,000 on lobbying in third quarter of 2015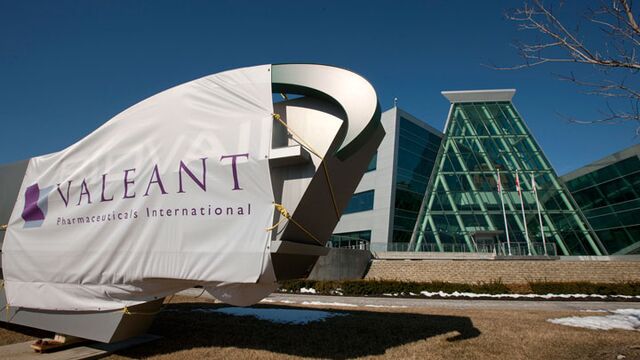 Bill Ackman was right: Valeant Pharmaceuticals International Inc. spends a fraction of what similar drugmakers do on lobbyists to represent the company in Washington and keep it abreast of sentiment on the industry in the nation's capital.
Valeant, under fire for price hikes on older drugs and a now-terminated relationship with a mail-order pharmacy that helped boost insurer reimbursement, faces investigations in both houses of the U.S. Congress. Yet the drugmaker, valued at $32 billion, is using very little of its $8.26 billion in 2014 sales on government relations, according to data compiled by Bloomberg Government.
Ackman, whose Pershing Square Capital Management is a top Valeant shareholder, said last week that Valeant had underinvested in government relations, a "meaningful mistake."
Shire Plc and Endo International Plc, the two specialty pharmaceutical companies closest to Valeant in market value, spent $320,000 and $260,000 during the third quarter on lobbying. Valeant spent $60,000 in the same period and didn't even have its own internal lobbyist.
'Vulnerable to Attack'
"Shareholders need to understand the business and the progress of the company and really need to hear about bad news pronto," Ackman, whose Pershing Square Capital Management owns 5.7 percent stake in Valeant, said Oct. 30 on a call about the company. "Anything less than complete transparency makes the company vulnerable to attack, and Valeant's had its share of critics over the years."
Valeant's $60,000 went to the firm Mehlman Castagnetti Rosen & Thomas, which lobbied on tax, investment and labor issues. On Sept. 30, Valeant terminated Jeffrey J. Kimbell & Associates, which lobbied on pharmaceutical issues, according to Bloomberg Government.
Those two lobbyist firms, along with Valeant, Endo and Shire, didn't respond to requests for comment. An outside spokesman for Ackman said he had no further comment.
Valeant shares fell 8.1 percent to $84.51 at 9:58 a.m. in New York, the lowest intraday price since June 2013.
Mehlman Castagnetti's disclosure form says it lobbies for Valeant on "corporate structure, treatment of international income, reforms targeting internationally acquired companies." Valeant has its tax domicile in Laval, Quebec, and its principal executive offices in New Jersey.
Kimbell was used for "pharmaceuticals and general FDA issues," the firm said in its filing, without specifying further.
Lobbyists aren't required to register that they started work for a company for 45 days, so it's unclear whether Valeant has hired any other firms to advocate for them on drug pricing.
Hill Intelligence
In addition to bending the ear of lawmakers, lobbyists "can also provide intelligence from the Hill so that, before a company adopts a policy, they can have the benefit of 'This is how it's going to look to X, Y, Z, who matter,"' said Len Nichols, director of the Center for Health Policy Research and Ethics at George Mason University.
Valeant has spent $200,000 total on lobbying in the first three quarters of this year, compared with $970,000 for Shire and $1.1 million for Endo. Pfizer Inc., with a market value of $216 billion, spent $6.5 million on lobbying in the first three quarters, according to Bloomberg Government data.
Turing Pharmaceuticals AG, also taking heat for raising the price of an older drug, hired Buchanan Ingersoll & Rooney on Sept. 29 to lobby on pharmacy issues.
Seeking Subpoenas
In the U.S. House Oversight and Government Reform Committee, Democrats are pushing for a vote on Nov. 17 to subpoena the chief executive officers of Valeant and Turing to hand over documents on price increases. The lawmakers also want Committee Chairman Jason Chaffetz to hold a hearing on the issue.
Valeant raised the prices of two heart drugs, Nitropress and Isuprel,by 212 percent and 525 percent the day the drugmaker acquired the rights to sell them. Closely held Turing bought a decades-old anti-parasitic treatment and increased the price to $750 a pill from $13.50.
In the Senate, the Special Committee on Aging sent letters to Valeant, Turing, Retrophin Inc. and Rodelis Therapeutics asking about why they raised prices on drugs. The committee's leaders, Senator Susan Collins of Maine, a Republican, and Senator Claire McCaskill of Missouri, a Democrat, said they would hold a hearing on the issue Dec. 9.
Before it's here, it's on the Bloomberg Terminal.
LEARN MORE