VW's Latest Emissions Woes Are Bigger Than Just Diesel Exhaust
by , , and
Carbon-dioxide costs four times diesel-exhaust expenses

Volkswagen `has been lying' to consumers, Ellinghorst says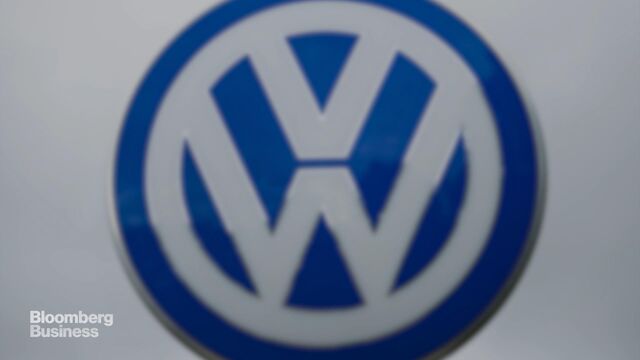 Volkswagen AG's latest revelations that it misrepresented vehicle emissions may be even more complicated and expensive for the carmaker to solve, as this time the falsifications include carbon dioxide, the greenhouse gas at the heart of the global-warming debate.
Volkswagen said Tuesday there were unspecified "irregularities" in the CO2 emissions in about 800,000 vehicles. The discrepancy will cost Volkswagen at least 2 billion euros ($2.2 billion). That's about 2,500 euros per car, more than four times the cost for the diesel-exhaust repairs. To fix systems for filtering nitrogen oxide from the exhaust of about 11 million diesel autos, VW has so far set aside 6.7 billion euros, which works out to about 609 euros per vehicle.
Cars that spew more carbon dioxide than they're supposed to actually have a bigger effect on consumers than dirty diesels, Arndt Ellinghorst, a London-based analyst for Evercore ISI, said in an e-mail. That's because higher CO2 emissions equal worse gas mileage. And in Europe, where authorities have cracked down on greenhouse gas emissions, the falsification will probably affect customers' tax rates too, he said.
"In colloquial language, VW has been lying to the consumer" as well as registration authorities, Ellinghorst said. "There are no technical issues with the cars. They simply emit more CO2 than VW has declared."
'Bigger Problem'
This time, Volkswagen can't fix the situation by repairing the vehicles, the analyst said. Instead, the company will face fines and probably need to compensate buyers who will face higher-than-expected tax bills. Vehicle taxes are pegged to CO2 emissions in the U.K., France, Germany and Sweden. Most of the 800,000 cars with irregular CO2 emissions were sold in Europe, Volkswagen said.
Germany's motor transport authority, which is overseeing VW's planned European recall, said it's taking the CO2 inconsistencies "very seriously" and investigating them within an ongoing review of vehicle emissions.
When developing an engine, a carmaker must adhere to CO2 limits calculated across its entire fleet and broken down for each model, said Gregor Rottenkolber, who heads the combustion-engine program at the University of Applied Sciences in Esslingen, Germany. Engineers developing new motors have to hit parameters for both costs and emissions, he said. 
After not being able to meet their targets, Volkswagen's engineers may have found other ways for the cars to perform within the limits, Rottenkolber said. While it's legal to use some measures to make test results better, such as thin, light tires and an almost-empty gas tank, the company's engineers may have gone further, he said.
"The worst-case scenario is that they ban those cars from the streets," and there's a risk of more vehicles being affected, said Sascha Gommel, a Frankfurt-based analyst with Commerzbank AG. For consumers, this is "absolutely a bigger problem" than smog-inducing nitrogen oxides because it means more taxes and fuel expenses than anticipated.
Before it's here, it's on the Bloomberg Terminal.
LEARN MORE